Congratulations to Team Liberation X for winning the Vainglory NA Autumn Live Finals event! They take home $10,000 in a hard-fought, team effort. In an exciting final match against Nemesis Hydra, Liberation X won the fifth and deciding game, finally showing they are one of the best teams in North America.
One of the only teams with a full six-man roster, all six members: Statusbaked, ttigers, DawnEclypse, martohhh, Exhail, and Chicken123 – all participated in matches. It was truly a team effort.
As many might have heard, ttigers, the starting laner for Liberation X, was unable to make it to Day One and Two of the Live Finals due to school, and made it just in time for the semifinal matches on Day Three. Filling in for ttigers were Chicken123 and Exhail. In the first matchup against Nemesis Hydra, Exhail replaced Chicken123 in Game Two as the primary laner after losing the first game. This made all the difference with Exhail's Celeste play providing the time for Statusbaked's Joule to scale into the late game. In an epic come from behind Kraken defense, Liberation X won with only their Vain remaining to force a Game Three. Ultimately, they were unable to defeat the dreaded Ringo-Koshka-Fortress team composition from Nemesis in Game Three.
In their next match, having Exhail able to play Lane (Celeste) or Jungle (Koshka) proved to be the winning formula for Liberation X, as they were able to defeat Vertigo Black in a do or die match to secure their spot in the semi-finals.
Enter ttigers.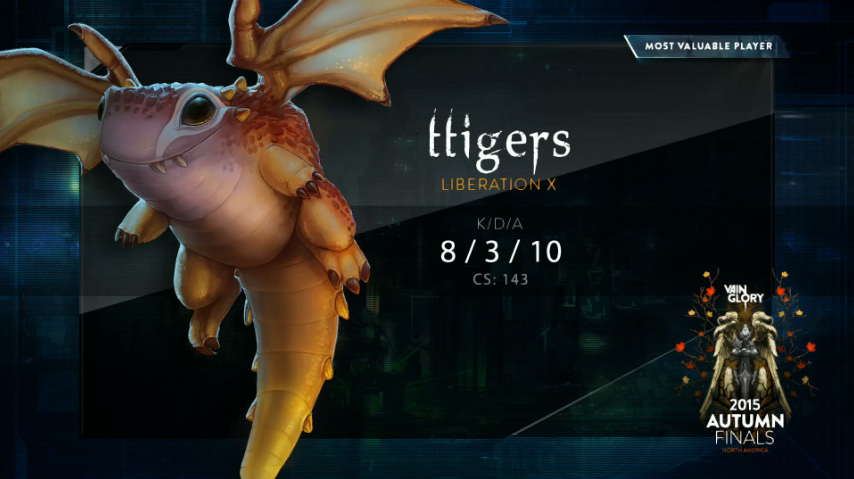 Considered one of the best laners in North America, ttigers came, saw, and conquered. With near perfect CS (Creep Score), positioning, and mechanics, ttigers instantly transformed this team. The combination of ttigers and Statusbaked gave Liberation X what they needed to overcome the top seeded VON Menace in the semi-finals.
In an epic rematch, Liberation X faced off against Nemesis Hydra in the finals. After dropping the first two matches, all hope seemed lost for Liberation X. DawnEclypse was struggling by having his most comfortable hero, Ardan, being banned or picked away from him. In a calculated move, Liberation X subbed in martohhh, who excels at support heroes such as Fortress. This was brilliant, as DawnEclypse was having an off day and possibly on tilt. Liberation X truly showed the depth of their roster and commitment to their team.
Statusbaked, martohhh, and ttigers showed an incredible synergy, not even missing a beat. Coming from a 0-2 deficit, Liberation X won the next three straight to become our Vainglory NA Autumn Live Finals winner. Watch all the final matches here, and congratulations again, Liberation X!
I'm a Pinnacle of Awesome Vainglory player. You can find me on Twitter, Twitch, Reddit, and the Official Vainglory Forums!