This weekend will be the VaingloryLeague quarterfinals, semifinals, and finals for the 1st qualifier of the Spring 2016 season. That being said, every match this weekend will be worthy of your time and attention, beginning with the top two seeds in every bracket facing off in the quarterfinals. Several of these teams have revised rosters and this will be the moment of truth, to see which ones endure the highest levels of competitive pressure.
Quarterfinals (April 16)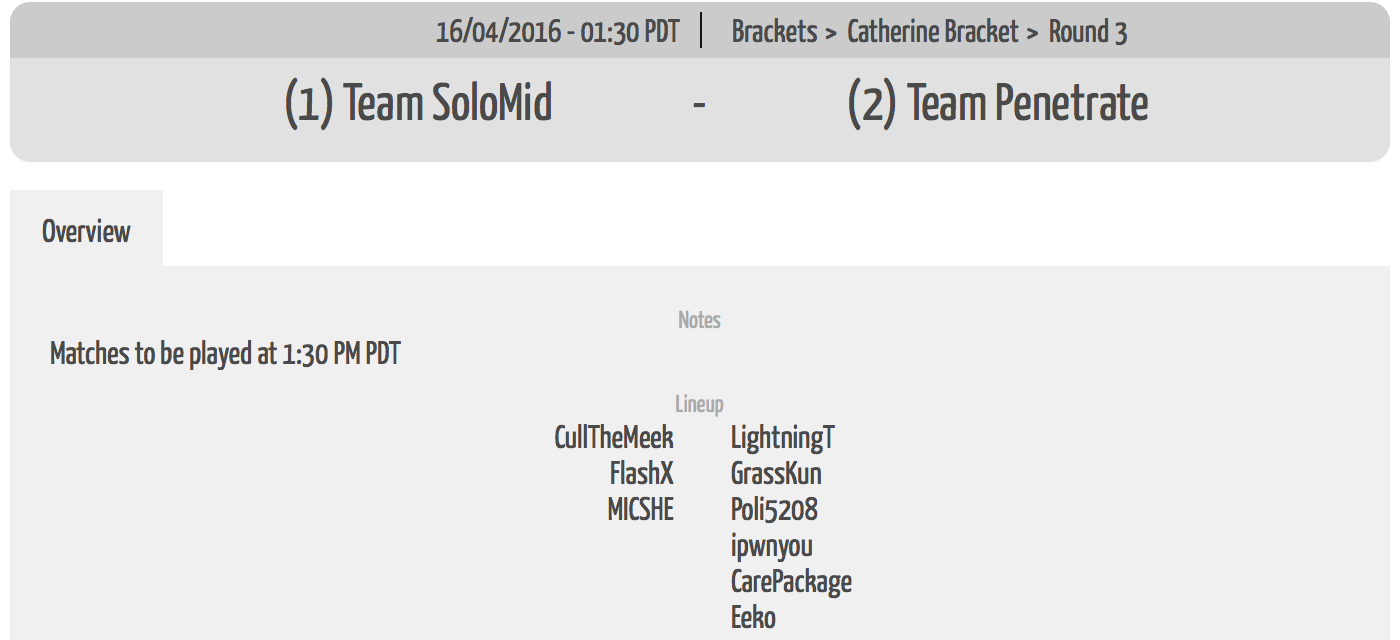 Team Penetrate is looking really good this season, especially after its victory against GankStars Vega in R16. Nonetheless they are going to be hard-pressed against the current North American and world champions, Team SoloMid. This doesn't mean TSM will be resting on their laurels though. While they are certainly gifted mechanically, an important recipe for their success is stellar preparation. Without that preparation, a team like Penetrate could easily pose a threat. Not to mention, TSM has a tight roster – without subs or separate analysts – which doesn't really allow for "sick days," so they should make sure their flu shots are up to date.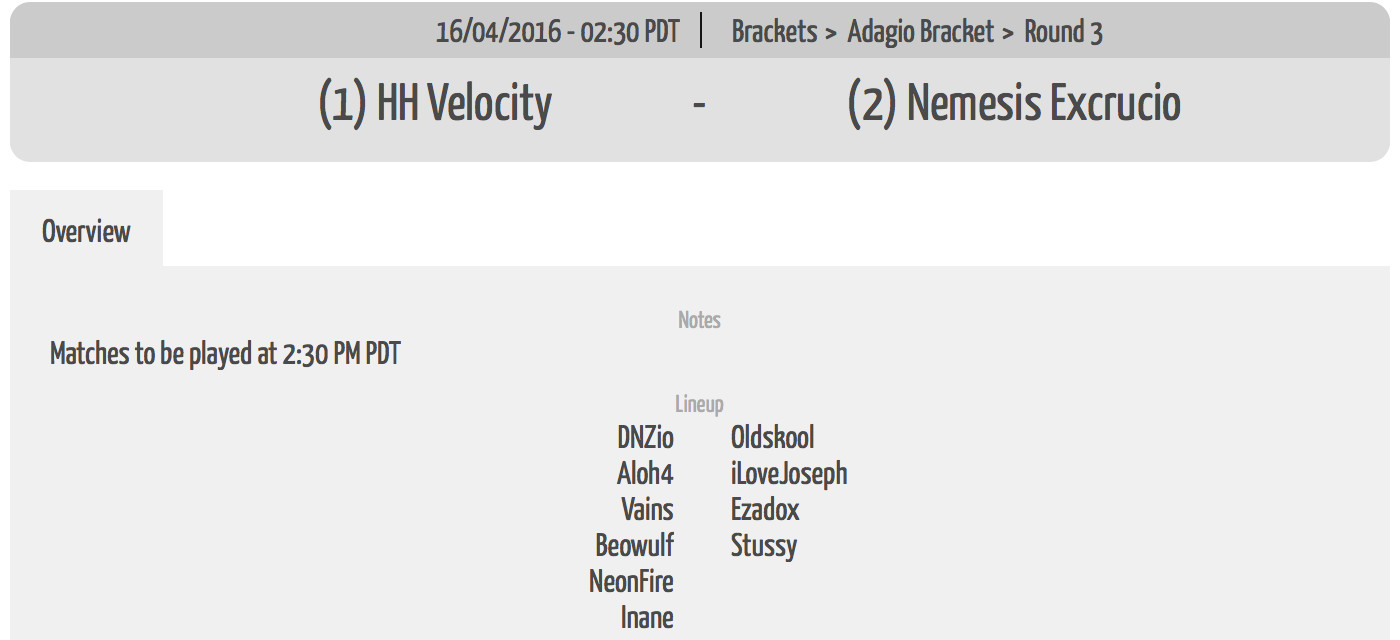 This is going to be one of those matches that separates the men from the boys – quite literally. HH Velocity is currently second place team in North America after the Winter Live Championship, where their star laner, DNZio, wowed audiences as a 13-year-old MOBA prodigy. Nemesis Excrucio has a new roster with many familiar, veteran faces that are also extremely young – their entire starting lineup is age 14. While both teams are exceptionally gifted and talented, the big concern about youthful players is that they are more prone to letting their emotions get the best of them and tilting when games go poorly.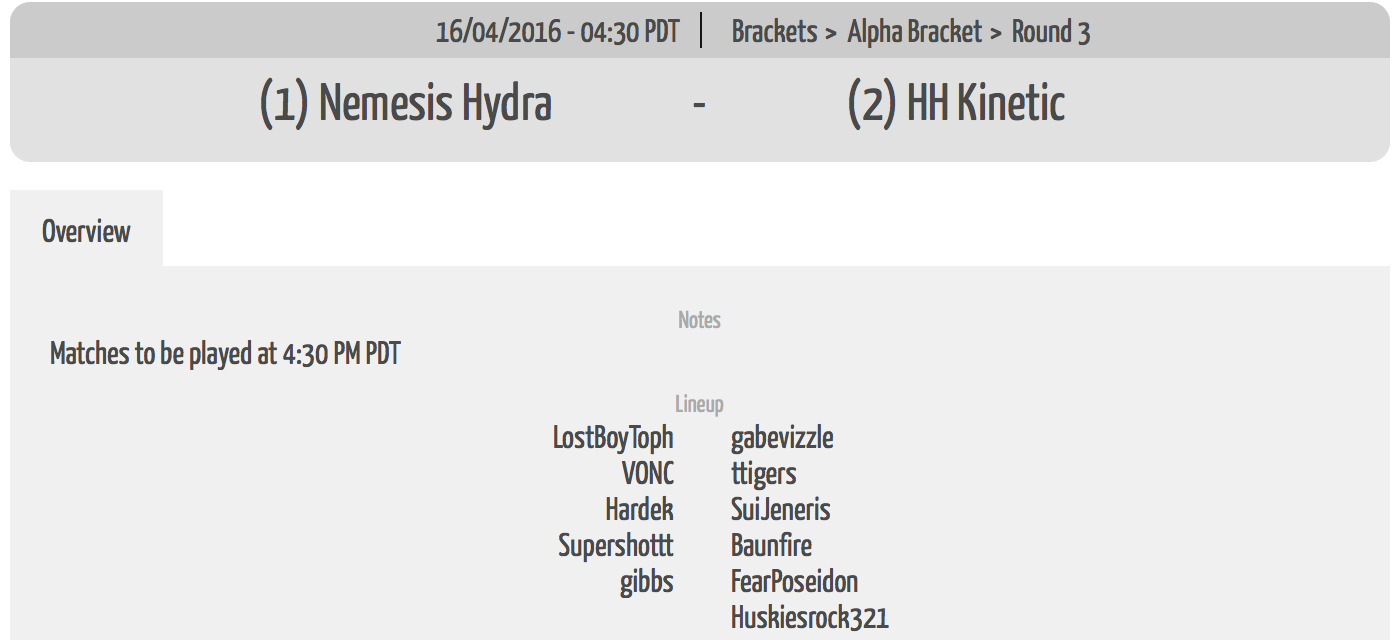 Both of these teams are seeing a lot of hype and curiosity this season. Hydra's already strong lineup has become even stronger with the addition of VONC, an impressive player who has made highlight reels in previous seasons on VON Menace. Likewise, Kinetic has put together a practically all-star roster for this season, with the addition of ttigers and gabevizzle, the latter of which has traditionally been a roam and is now playing as a jungle carry. This is one of those close match-ups where it will probably will go to a full three-game series; and, if it doesn't, you wished it would.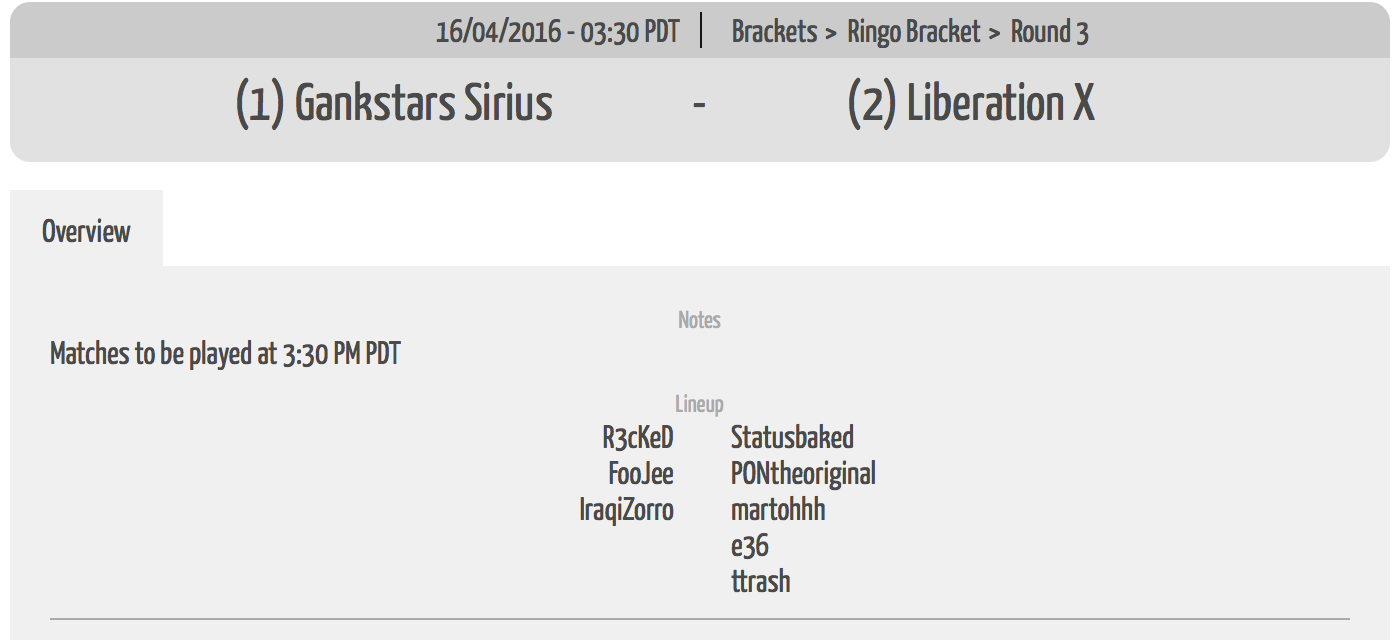 Both of these teams lost members of their starting lineup to the aforementioned HH Kinetic, but continue to prove their resiliency and strength as they remain among the top teams in North America. Probably one of the biggest deciding factors between these two teams will be the level of preparation. One of the advantages of GankStars Sirius is their renowned analyst team, who will certainly help them prepare competitive analyses and strategies. Liberation X will need to prepare similarly if they wish to remain competitive.
Semifinals and Finals (April 17)
Without even knowing what these brackets are going to look like, the competition is going to be fierce. Not to mention, it's going to be incredibly hard for a team to prepare with less than a 24-hour notice as to who they will be facing. This will help level the playing field against top teams who pride themselves on strong competitive analysis, such as Team SoloMid and GankStars Sirius. Depending on how the semifinal brackets are shaped, there's a lot of room for unexpected victories and upsets. Spectators should expect to be surprised on how the events of this final day play out.
---
The games on both days will begin at 1:30 PDT and can be found on the VaingloryLeague Twitch channel.
An entire lobe of Gadianton's brain is dedicated to Vainglory analysis, even causing the firing of his synapses to sound akin to ? pings. This heightened evolution allows him to breakdown gameplay to its juicy core and suck all the statistics out. He then takes that knowledge-enriched nectar and spits it into your mouth like a momma bird. Your ELO is rising already, you just don't know it yet.
Latest posts by Gadianton (see all)