After an explosive first qualifier with some shocking upsets, this weekend kicks off the second and final qualifier of the spring season. The outcome of this qualifier will determine who will – and will not – be going to this season's live championships, with only the top eight teams proceeding. The following preview will show what to expect during the next couple of weekends.
Current Standings
The current team standings after the first qualifier are as follows: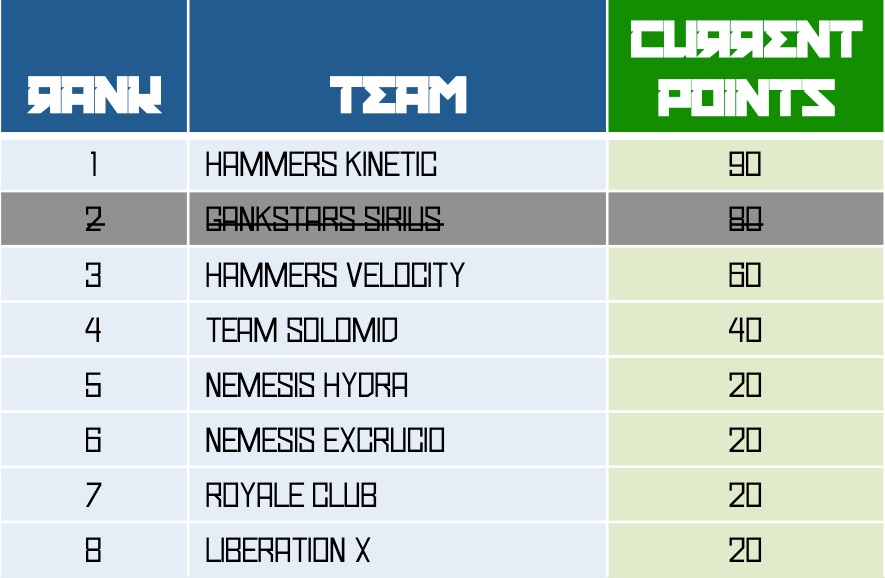 GankStars Sirius secured enough points (80) to qualify for the live championships, but have decided to forfeit their spot in order to pursue the Vainglory International Premier League (VIPL) in Korea. This means that there are currently only seven teams with points  and one of the teams with no points from the the first qualifier will have an opportunity to fill that spot.
Hammers Kinetic and Hammers Velocity both have enough points to guarantee their presence in the live championships, but they will continue to fight for prestige, seeding, and prize money.
There's the tiniest of probabilities that Team SoloMid could get bumped from the top eight, but it is extremely unlikely.
Nemesis Hydra, Nemesis Excrucio, Royale Club, and Liberation X each have earned a small amount of qualifier points, but are still very much at risk of getting bumped out of the top eight by other teams.
The rewards for the second qualifier are as follows:
1st: $2500; guaranteed placement in live championship as first seed
2nd: $1000; 100 qualifier points
3rd: $500; 85 qualifier points
4th: $300; 55 qualifier points
5th-8th: $175; 30 qualifier points
Second Qualifier Brackets
Since only teams who make it to the quarterfinals (or further) will be awarded points, the following analysis will focus on the teams who are most likely to succeed in the top and bottom of each bracket.
Catherine Bracket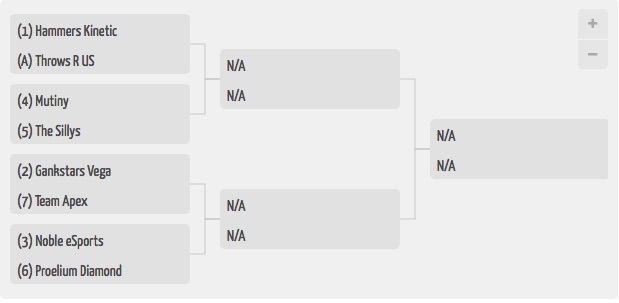 In the top half of the bracket, Hammers Kinetic is the team to beat. Mutiny and The Sillys will duke it out to see who is most worthy to go against Kinetic in the round of 16. To Mutiny's credit, they were able to beat Team SoloMid in another recent tournament, so it's very possible their seed number does not properly reflect their threat level to Kinetic.
In the bottom half of the bracket, Vega is the last of GankStars' teams representing them in the North American VGL and the most likely candidate to face Kinetic in the quarterfinals. However, Noble eSports is looking strong and has a good chance of causing a small upset in the seed order. Whichever of these two teams – Vega or Noble – make it into the quarterfinals will also secure themselves at least 30 points, making it likely they will attend the live championships as one of the top eight teams.
Adagio Bracket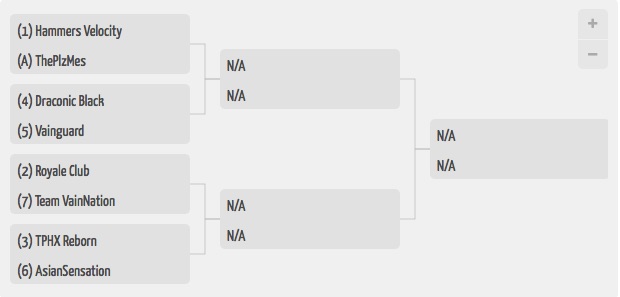 As will be a consistent theme in the top half of each bracket, it is very unlikely that the first seed – in this case, Hammers Velocity – will be prevented from entering the quarterfinals. However, Velocity can't be overconfident against the fourth and fifth seeds, Draconic Black and Vainguard. As an example from last season, Vainguard managed to cause a large upset by knocking Liberation X out of the first qualifier.
Royale Club is the likely candidate for quarterfinals from the bottom half of the bracket, but they will have to be careful. An unexpected upset by TPHX Reborn could cause Royale Club to be bumped from the top eight teams and eliminate them from participation in the live championships.
Alpha Bracket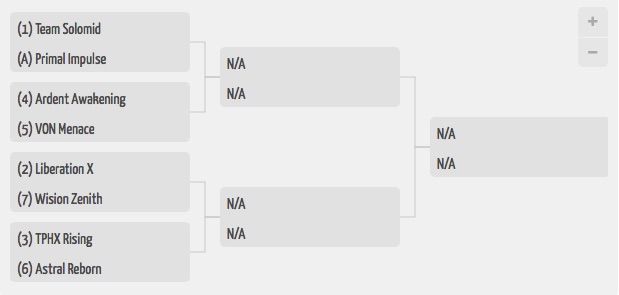 While Team SoloMid still deserves to be first seed in this bracket, they've been having some shaky performance as of late, both in the first qualifier and in other tournaments. Normally, fans are used to seeing TSM dominate all opponents with confidence. Ardent Awakening and VON Menace will both be eager to face off against TSM, but they will be hard-pressed to fight their way into the quarterfinals.
Liberation X has proven that even with the loss of their star laner, ttigers, they're still a top team in VGL. Lib X's biggest threat will be TPHX Rising in the round of 16. These two teams will be squaring off to see who gets points from this qualifier. If Phoenix Rising manages to win, it's possible they could bump Liberation X out of the top eight.
Ringo Bracket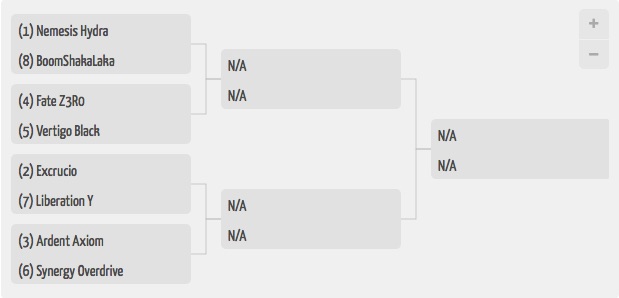 This bracket will be hugely influential in determining what teams will be going to the live championships. Both the first and second seeds, Nemesis Hydra and Excrucio, only have 20 points from the first qualifier, which means every team in this bracket is fighting for survival. In the top half of the bracket, Nemesis Hydra is definitely the favorite. However, Vertigo Black has been around for a long while and has been in the top eight in previous seasons. In the bottom half of the bracket, Ardent Axiom will try to thwart Excrucio's efforts to enter the quarterfinals and secure themselves a spot in the live championships.
Final Thoughts
If everything goes according to plan (i.e by seed numbers), the seven teams mentioned at the beginning of this article will be accompanied by GankStars Vega. Nonetheless, there are still many opportunities for upset in these brackets. The following teams have the best chance of shaking things up a bit over the next two weekends:
Noble eSports
TPHX Reborn
TPHX Rising
Ardent Axiom
Mutiny
Best wishes to all the teams. Win or lose, the Vainglory community will be watching, so give it your best and put on a good show.
---
The second qualifier of the VGL spring season begins this Saturday and Sunday. Matches will begin at 1:30pm PST on both days and will be streamed on the VaingloryLeague Twitch channel.
An entire lobe of Gadianton's brain is dedicated to Vainglory analysis, even causing the firing of his synapses to sound akin to ? pings. This heightened evolution allows him to breakdown gameplay to its juicy core and suck all the statistics out. He then takes that knowledge-enriched nectar and spits it into your mouth like a momma bird. Your ELO is rising already, you just don't know it yet.
Latest posts by Gadianton (see all)