This week in Vainglory News, we have Vainglory Update 4.0 with new hero Sen Feng, four new skins, the official PC/Mac launch on Steam, as well as a community esports tournament and our recent favorite community content. Read on to see what you've missed this past week in Vainglory News!
---
Vainglory Update 4.0
Update 4.0 released a large number of changes onto both Sovereign's Rise and the Halcyon Fold alike, introducing a brand new hero, fresh skins, new pings, and more. Here are some of the highlights:
NEW HERO SAN FENG —

Give a warm welcome to San Feng, a bulky kung-fu master who carefully times his abilities in order to catch his opponents off guard. Familiarize yourself with his hero spotlight before kicking off a match.
FOUR NEW SKINS — For the first time since her release, Varya received not one but two new skins this update: turn back time to the days of ancient Greece with her Legendary 'Athena' and Special Edition 'Ares' skins. Anka sees her second skin with her stylish Epic 'Feathered' costume. If Blackclaw or Ghostwing are giving you a hard time, try out Catherine's new Legendary 'Dragon Master' skin to give you an edge (not really, but maybe someday).
PC/MAC FULL RELEASE ON STEAM —

The most significant headline of this update, and really for quite a long time, the Vainglory developers have expanded the PC/Mac client even further by making Vainglory accessible on Steam. In order to celebrate this, you can now link your mobile and Steam account through the game in order to unlock Tony, along with his 'Steam Knight' skin. The developers are hard at work releasing updates in order to perfect the experience of this platform.
CASUAL 3V3 REMOVED — For a long time, 3V3 was Vainglory's staple mode. To gravitate toward 5V5 being the encouraged mode, Casual 3V3 has been removed from the game, which will also

consolidate players into the other queues to reduce waiting times. Don't panic, though, Ranked 3V3 is here to stay!
ITEM REMOVALS —

In addition to the item changes made this patch, Minion Candy, Nullwave Gauntlet, and Ironguard Contract have all been removed.
META CHANGES — Although Update 4.0 lacked many significant meta changes compared to updates prior, the balance team still brought about a few tweaks. In 5V5, the Vain crystal now deals more damage over time. In 3V3, the monsters found in the jungle have lower base health and scaling. A handful of heroes were also tuned to provide a more equal playing field.
UI UPDATES —

The longest lasting piece of the Vainglory UI has been refreshed! The "Match Accept" screen has been updated to feature a much sleeker look. The friends tab has also been updated, and the chat system has been rewritten in order to combat some of the connection problems many players have experienced over the years.
---
3V3 Community Tournament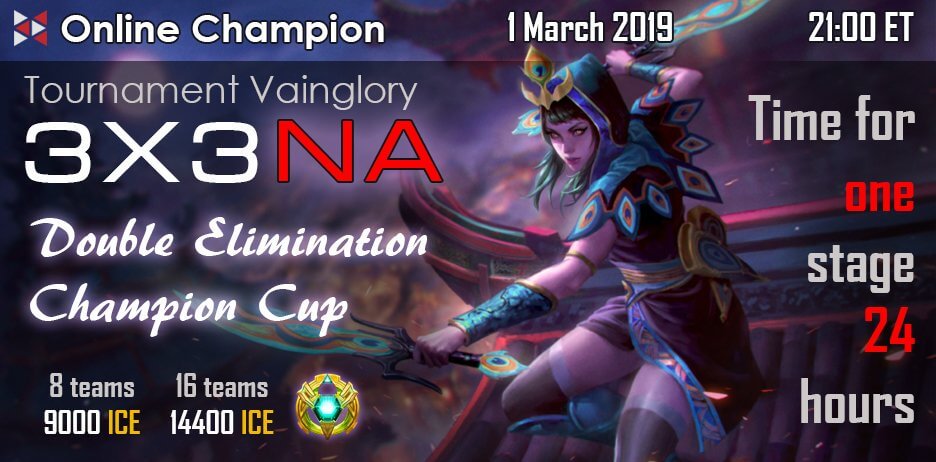 Last but certainly not least, community member DIN is hosting a 3V3 double-elimination tournament on March 1st. Get a team together and register for the event before it's too late! With a large prize pool, many high class teams will be sure to register.
---
Community Content
This week in community content, we have artwork featuring Gwen, Ardan, Taka, Kensei, Anka, and Varya. To have your own work featured next week on Broken Myth, submit your content or suggestions to us via email.
Hero Silhouette Wallpapers
'Feathered' Anka Painting
'Athena' Varya Painting
---
Thank you for reading this week's Vainglory News Roundup on Broken Myth. Be sure to come back next week for more news and updates!