GAME 1
| Phase | G2K1 | APsB |
| --- | --- | --- |
| Ban | Ringo | Catherine |
| 1 | Krul | |
| 2 | | Vox |
| 3 | | Adagio |
| 4 | Skaarf | |
| 5 | Ardan | |
| 6 | | Taka |
As almost every player locks in their comfort picks coming into Game One, it's G2 who secure the first two kills as Pandas' aggressive invasions are pushed back. Pandas rotate well to feed off the scraps of jungle that G2 can't protect. Pandas seem to be holding their own, but G2 are onto them and punish solo invasions by taking objectives with their numbers advantage. G2 just have too much of a lead building up and TonyLuo on Taka just can't make a dent against his enemies' health bars. DarkPotato secures a solo Kraken as Krul with his two teammates down, going on to take a turret alone leaving Pandas vulnerable.
Result: G2K1: 1    APsB: 0
GAME 2
| Phase | APsB | G2K1 |
| --- | --- | --- |
| Ban | Krul | Ringo |
| 1 | Skye | |
| 2 | | Adagio |
| 3 | | Vox |
| 4 | Blackfeather | |
| 5 | Catherine | |
| 6 | | Ardan |
A very early ace for G2 at 2:30. Angry Pandas look desperate with high-risk plays. Similar to last game, Pandas start to struggle after eight minutes, but TonyLuo turns around a 1v3 to secure three kills for himself and give the Pandas the momentum they thrive on. G2 force a perfect engage for Reddix on the buffed WP Vox to demolish two health bars in two Sonic Zooms. G2 have Pandas pushed inside their base and secure a free Kraken. One last ditch team fight as Pandas strive to defend their base, but Reddix has too much protection and survives just long enough to ensure the win for G2.
Result: G2K1: 2    APsB: 0
---
We say goodbye to Angry Pandas Black until next season, and G2 live to fight another day (more accurately later today in Match 9 of the tournament). The difference in the competitive scene is really starting to show as Angry Pandas, a stereotypically more casual team, just couldn't seem to compete with the larger organisations like SK and G2.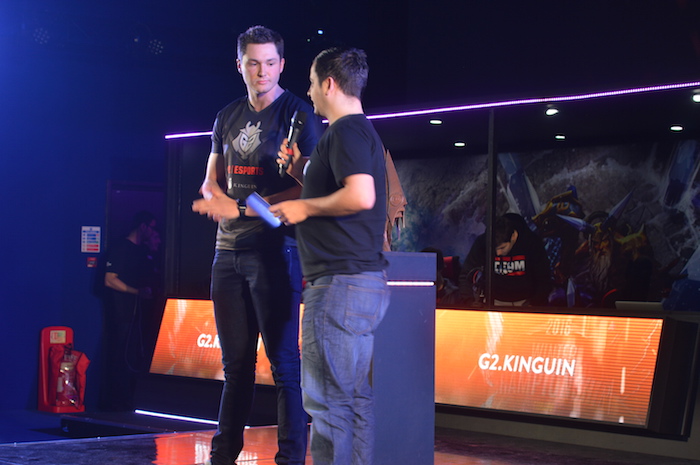 An interview with match series MVP, D1ngo.