GAME 1
| Phase | SnAv | G2K2 |
| --- | --- | --- |
| Ban | Blackfeather | Adagio |
| 1 | Krul | |
| 2 | | Ardan |
| 3 | | Reim |
| 4 | Skaarf | |
| 5 | Catherine | |
| 6 | | Vox |
SNOW face their first hurdle towards an in-house finals, but lose the first team fight, giving the early pressure over to G2K2. A single well played team fight closes the gold gap from 5k to 2k and bring SNOW back into this match. A couple of hotly contested team fights see the battle of attrition between these two strong late-game comps. SNOW Avalanche get a delayed Ace by taking the initiative, and rush to grab Kraken. Infusions pop across the board and in an offensive counter, G2K2 throw the game to SNOW by using too much of their damage on an unsuccessful catch on Catherine. SNOW Avalanche clean up the all-or-nothing team fight and take Game One. G2K2 look disappointed with themselves.
Result: SnAv: 1    G2K2: 0
GAME 2
| Phase | G2K2 | SnAv |
| --- | --- | --- |
| Ban | Krul | Adagio |
| 1 | Ardan | |
| 2 | | Vox |
| 3 | | Blackfeather |
| 4 | Ringo | |
| 5 | Reim | |
| 6 | | Fortress |
Reim becoming a regular hero in compositions. A lot more action in the early stages of this game and it just seems the Ardan support from Pips is allowing his team to chase those last hits to secure kills more than SNOW Avalanche can with Fortress. G2K2 take the first gold mine and start to establish a gold lead the same way we saw in Game One. G2K2 don't let up on the pressure this time as they utilise their early infusions to take the second turret. All six players have been on screen for a very long time as G2K2 sit on the edge of turret range forcing all SNOW members to battle to fend them off. The siege just doesn't end as G2K2 take another turret. G2 falls back to secure Kraken, which somehow goes their way as SNOW rush the pit. The Kraken falls with the vain crystal seconds from destruction, and SNOW come out fighting knowing their win condition is to target TaisukeSan on Ringo. A Kraken released by SNOW puts the match on a knife's edge with ColdICE left alone to defend 1v3 with no turrets remaining on the map. SNOW left their comeback a little too late and G2K2 take this series to the first match three of the tournament!
Result: SnAv: 1    G2K2: 1
GAME 3
| SnAv | G2K2 |
| --- | --- |
| Adagio | Ringo |
| Ardan | Ardan |
| Krul | Adagio |
Adagios on both sides, but only one team decide to secure that hot-topic Krul. SNOW Avalanche suffer slightly at the hands of Ringo's earlier game strength, who TaisukeSan has already settled into from game two. araxi getting back onto Krul desperately needs to transition into the late game but G2K2 take the first turret of the game with a three-man siege. Working to the true strengths of a buff comp, G2K2 have Adagio pick up a contract but allow Ringo to take all of the farm. At 13:57 Ringo finishes on 207 cs and G2K2 beat SNOW.
Result: SnAv: 1    G2K2: 2
---
G2K2 arguably led all three matches of the series, but will have to improve their ability to close out games from a leading position as they made this stage harder than it needed to be. SNOW Avalanche put up a commendable fight and provided us with the closest matchup of the series so far. Avalanche are the second team eliminated today and G2K2 will continue their fight through the loser's bracket, but have they shown their strongest too early? We'll have to wait and see.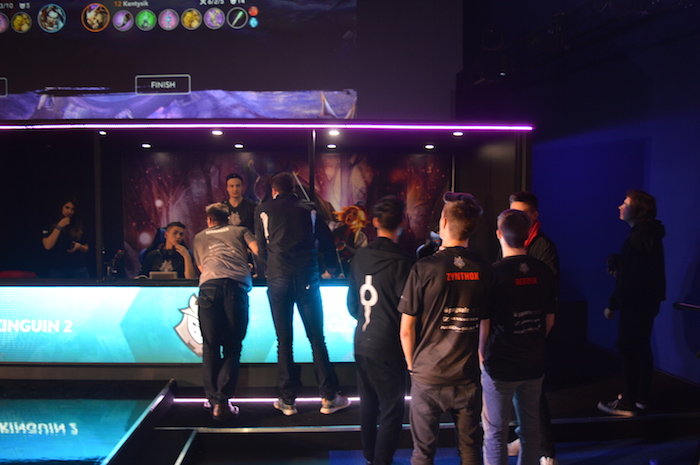 G2 huddles before the third game of the match series.