GAME 1
| Phase | SKP | RoE |
| --- | --- | --- |
| Ban | Adagio | Krul |
| 1 | Blackfeather | |
| 2 | | Ardan |
| 3 | | Skaarf |
| 4 | Catherine | |
| 5 | SAW | |
| 6 | | Glaive |
In a totally unforeseen draft pick, SK pulls out a CP SAW. Rebirth pressures the lane, causing SAW to pick up a hefty kill/death deficit. SAW helps pick up SK's first kill onto Skaarf and from there it's a flurry of kills exchanged. Two aces go to SK due to some great solo plays all around, with SAW acting as an assassin with his Roadie Run. SK are starting to build up a lead in their own clinical way that we were shown yesterday. An immediate Kraken pick up at 15 minutes by SK signals the first big push. RoE burn their Gauntlet and Dragon's Breath combo on thin air giving SK a free opening to engage on their own terms. One turret remains for RoE, SK secure their second Kraken after some more skirmishing, and take Game One.
Result: SKP: 1    RoE: 0
GAME 2
| Phase | RoE | SKP |
| --- | --- | --- |
| Ban | Petal | Krul |
| 1 | Adagio | |
| 2 | | Blackfeather |
| 3 | | Skaarf |
| 4 | Ringo | |
| 5 | Ardan | |
| 6 | | Catherine |
Raph doesn't have as easy a jungle game this time around with some strong early play from RoE who secure SK's minion mine and back camps. RoE play SK at their own game, clinically rotating and pressurising SK's turrets as three. RoE take an uncontested Kraken and finish a perfect game with zero deaths in one final fell swoop. They've picked themselves up well from that first loss and we find ourselves at another third game blind pick.
Result: SKP: 1    RoE: 1
GAME 3
| SKP | RoE |
| --- | --- |
| SAW | Skaarf |
| Krul | Krul |
| Fortress | Ardan |
Some 'intense' and extended Krul vs. Krul fights set the tone for the game with not a lot separating these teams. With the Kraken spawning, a fantastic Gauntlet from nettetoilette splits the team fight perfectly as MrKcool takes down WalDeMar, and jetpacks is left stuck on the wrong side of the wall from GreatkhALI. RoE proceed to secure the Kraken and with the incredible skillshot poke from GreatkhALI on Skaarf, SK had no way to deal with the Kraken, which survives all the way down the lane to take four turrets and the vain crystal. Labeled the 'TSM Special', Rebirth utilise this Kraken to it's fullest potential and cause their second upset of the tournament.
Result: SKP: 1    RoE: 2
---
SK Prometheus are the second team to suffer an upset at the hands of Rebirth of Empire. It's not over yet though as they drop to the loser's bracket to play again later. Rebirth are showcasing their strength in the drafting phase through their deep hero pool and it will definitely be on the minds of their opponents tomorrow. They are the first team to qualify into the semi-finals and we will have to wait and see who will join them.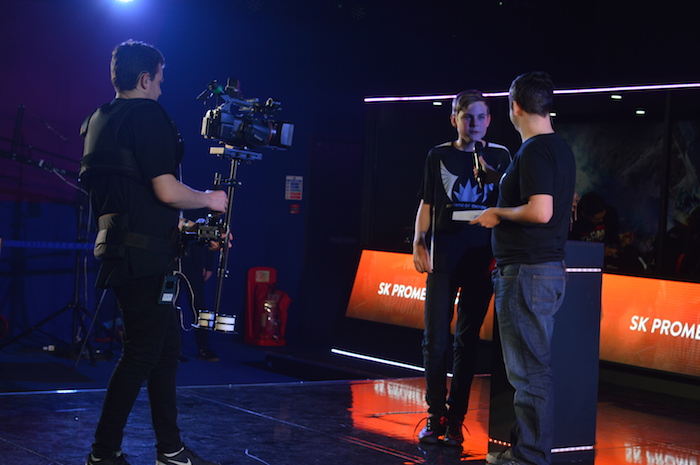 Interview with match series MVP, MrKcool.