GAME 1
| Phase | TS | STsu |
| --- | --- | --- |
| Ban | Blackfeather | Krul |
| 1 | Adagio | |
| 2 | | Phinn |
| 3 | | Ringo |
| 4 | Ardan | |
| 5 | Kestrel | |
| 6 | | Glaive |
TS lived up to their name by showcasing their first secret comp of the tournament, with Kvalafar on a Kestrel. Despite KValafar giving up an easy early kill in lane edge into the lead with the first gold mine pickup. lookatme's Glaive seemed to be making a statement that the lane is his stomping ground. Every time he visited lane, he pulls off another gank onto KValafar. Tsunami drafted a perfect counter to this TS comp and shutdown KValafar every team fight. An open vain crystal put pressure onto TS's shoulders, but DOUBLE ACE gives all six players take a breather.In the end, Tsunami manages to finish the game.
Result: TS: 0    STsu: 1
GAME 2
| Phase | STsu | TS |
| --- | --- | --- |
| Ban | Adagio | Krul |
| 1 | Blackfeather | |
| 2 | | Catherine |
| 3 | | Ardan |
| 4 | Ringo | |
| 5 | Fortress | |
| 6 | | Kestrel |
Team Secret were adamant to redeem the dent they made in Kestrel's win %. KValafar was again put on the hyper carry role, but being double protected by both Catherine and Ardan this time. Ardan and Catherine shared the damage and protection, each with an aftershock and defensive items. Reminiscent of the VON play style, TS successfully protected their hyper carry by shadowing her location and making it impossible for the single-target heroes of SNOW to target KValafar. Whenever a SNOW member tried to dive this comp, Kestrel had an Active Camo ready, and without the repositioning/stuns of their first game, SNOW were at Team Secret's mercy. Complete map control and turret sieging allowed TS to stay in the running, taking us to yet another third game blind pick.
Result: tS: 1    Stsu: 1
GAME 3
| TS | STsu |
| --- | --- |
| Skaarf | Skaarf |
| Ardan | Ardan |
| Krul | Krul |
A mirror match was the perfect decider for which team is better. The early-game had a variety of lane ganks, nothing separating these teams until TS pick up the first gold mine. The first all out team fight sees a two-for-two with Sosiska on Ardan escaping with a sliver of health from Mowglie's healthier Ardan. TS take two turrets with a Kraken push but SNOW quickly return the favour and win a team fight with a two-for-one trade. They take their turn to push with a Kraken, but only take a single turret, albeit leaving Team Secrets' base open. 25 minutes have passed and with the third Kraken spawning onto the map, TS warhorn in and the teams split taking mirrored Krul v Skaarf+Ardan across the map with a beautiful camera overview. Tsunami come out on top taking down Krul and Ardan while keeping Ardan and Skaarf alive themselves. With that, the Kraken is secured safely and TS can't use the same tricks to fend off Tsunami this time, getting snowed under.
Result: TS: 1    STsu: 2
---
Team Secret, the reigning champs, drop to the loser's bracket and SNOW has showed us that they can be overcome, even if it takes three grueling and close matches. SNOW Tsunami secure the second semi-final spot and we move on to the final two elimination matches to see who else can claim those spots.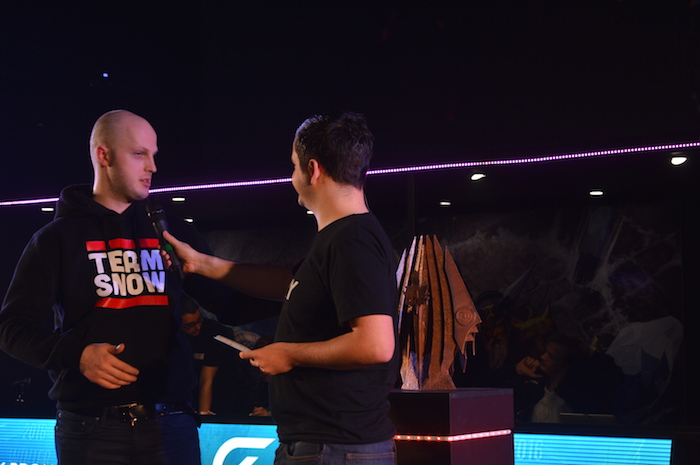 SNOW's lookatme laying claim to the trophy after they claim victory over Team Secret and move onto the semifinals.