A few months back, I went on a small "witch hunt" for unwritten release notes for version 1.3.0. During this process, I discovered Taka's base attack speed had been secretly increased by 20%. However, when I reported this undocumented "Taka buff" on Reddit, SurpriseBirthday responded with the following:
"True, but Taka's attack cooldown was increased proportionally by the same amount, so his total rate of attack is exactly the same as before."
I double-checked the in-game hero statistics to see if I overlooked "attack cooldown" anywhere, but to no avail. Additionally, I noticed that in the 1.3.0 release notes the term "attack cooldown" came up again:
"Attack speed reductions such as Atlas Pauldron will never reduce the attack animation below base attack speed. Attack cooldowns are still able to go below base speed."
I decided this was something that this is probably something the Vainglory community should be aware of, so I began to dig a little deeper. Here's what I learned.
Base Attack Cooldowns
Every hero – with one exception – has a base attack cooldown of 1.4 seconds. This means that a level 1 hero with no items will attack every 1.4 seconds. The aforementioned exception is Taka, who has an attack cooldown of 1.65 seconds. This deviation from the norm is most likely a way to balance the power of his heroic perk, which otherwise may be overpowered.
As a small piece of interesting history, Skaarf used to have a 1.9 second attack cooldown and that was reduced to 1.4 seconds in version 1.4 of Vainglory. If you can recall, this was also the patch that Skaarf was wildly overpowered. In version 1.5, they balanced Skaarf by reducing the power on his heroic perk, rather than increasing his base attack cooldown again. Today, he still remains at a 1.4 second attack cooldown.
The Effects of Attack Speed on Base Attack Cooldowns
In addition to a base attack cooldown, every hero starts with 100% attack speed at level 1. Much like the cooldowns on your abilities, increasing your attack speed % will reduce the cooldown on your attacks, thus allowing you to attack more frequently. Keep in mind that in addition to gaining attack speed from items, most heroes gain additional attack speed every time they level up and not every hero gains attack speed at the same rate.
Here's the level 1 and level 12 attack cooldowns of all current heroes as of version 1.6.0: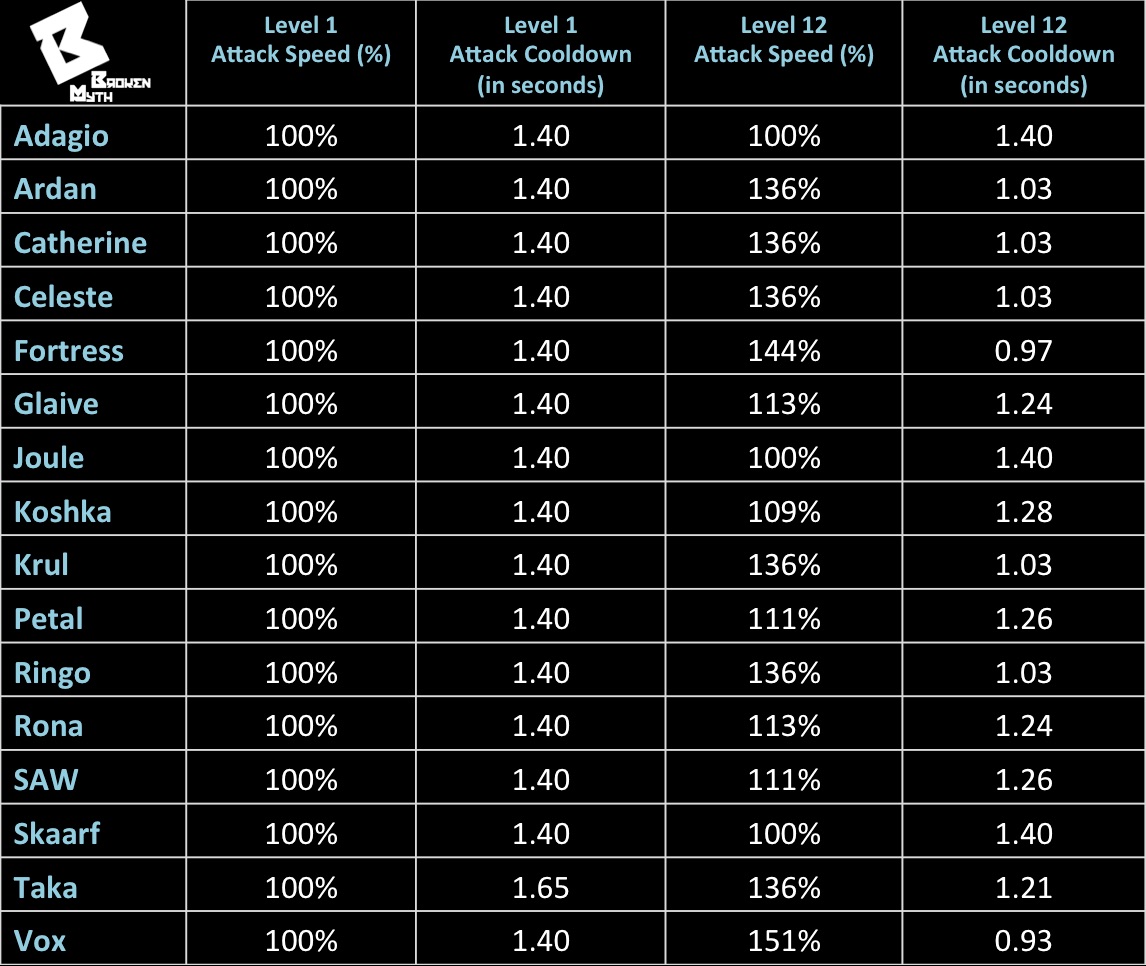 Attack speed functions exactly like cooldown acceleration, but for your attack cooldown rather than ability cooldowns. Here's what the math looks like:
New Attack CD = Base Attack CD / Total Attack Speed
As an example, if I'm playing a level 12 Taka with a Blazing Salvo, my attack speed would be 176% (136 + 40). My adjusted attack cooldown would be 0.9375 seconds (1.65 / 1.76).
To give you an idea of which heroes have the fastest natural attack speed, here's a ranked list of level 12 attack cooldowns. Keep in mind that Rona's heroic perk artificially increases her attack speed by 50%, but I have not included this here. If I did, she would easily be at the top of the list.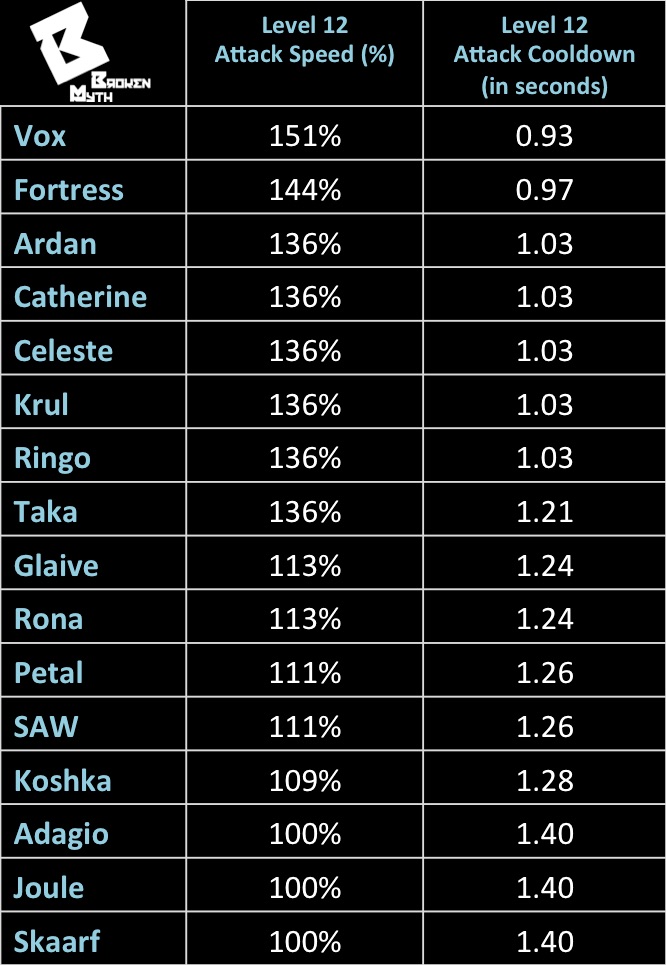 Will this new knowledge dramatically change the way you play? Possibly not. However, this should allow us to more accurately understand how the game works and – for us math geeks – enable us to create more accurate theorycrafting models. Enjoy!
— Gadianton
P.S. If you like learning about the numbers behind the game, you can find similar articles via the Theorycrafting tag.
An entire lobe of Gadianton's brain is dedicated to Vainglory analysis, even causing the firing of his synapses to sound akin to ? pings. This heightened evolution allows him to breakdown gameplay to its juicy core and suck all the statistics out. He then takes that knowledge-enriched nectar and spits it into your mouth like a momma bird. Your ELO is rising already, you just don't know it yet.
Latest posts by Gadianton (see all)