It's barely been a month since Team Secret won at the Winter Live Championships, and we are already at the quarterfinals of the first Spring Qualifiers. Unexpectedly, there have been more than a few upsets as frontrunners SK Prometheus and SNOW Avalanche were both victims of early elimination. Nonetheless, in preparation of the quarter finals, here is a breakdown of the matchups that we'll be seeing on Saturday.
CATHERINE BRACKET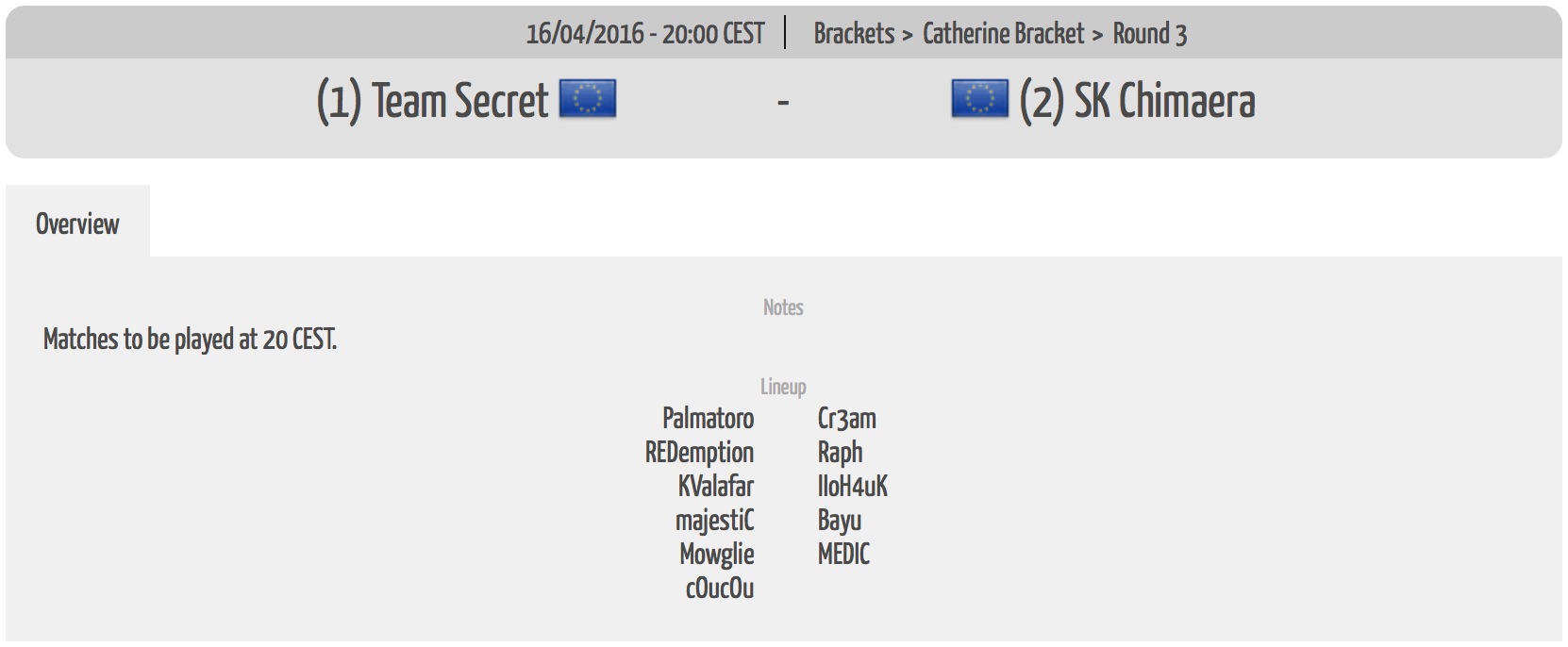 Team Secret stunned us all by retaining their title at the Live Championships and proving to any of those still harboring doubts that they are the rightful champions. They have even supplemented their roster for the Spring Season, adding in REDemption (aka TaisukeSan) and majestiC (both formerly of G2 Kinguin 2). Team Secret are looking better than ever with a strong performance against TheTrueGentlemen in the round of 16. SK Chimaera narrowly missed out on a spot at the Live Championships in winter and will certainly realize the value of the additional qualification points they could gain with a win here. However, this will be a very tough matchup for them, and having been knocked out last season at the round of 16 in both qualifiers, they may be reaching their peak going into this matchup and will certainly have to pull out their best performances to topple the Team Secret juggernaut.
ADAGIO BRACKET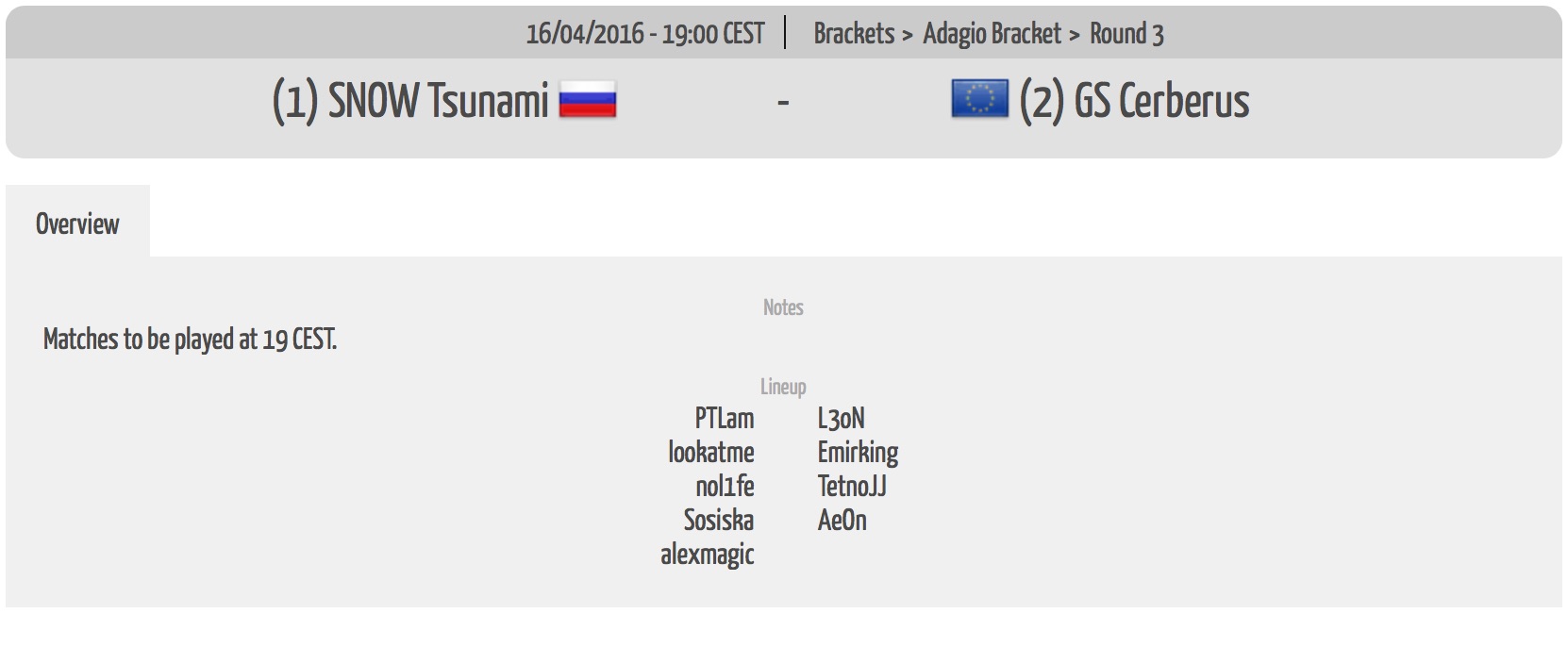 GS Cerberus is the team that has been making waves ever since they were announced a few weeks ago by Gankstars – the American organization that has been dominating the NA competitive scene since their inception. All eyes were on Cerberus as they made their on-stream debut against the interestingly named Team Clytia in the round of 16. Team synergy seemed slightly off and Cerberus struggled in their second game, but thanks to the naturally stronger mechanical skill of their players they were able to pull through to take the round 2-0. Synergy isn't formed overnight and issues are to be expected as a brand new team, but we can certainly expect further improvements in the upcoming rounds.
GS Cerberus have a tough opponent on Saturday in the form of SNOW Tsunami- the runner up in the Winter Live Championships and the only team to take a game off Team Secret. SNOW Tsunami have a very consistent performance and are exemplary in their drafting and mechanics. If anyone were to sweep Cerberus off their feet, it would be Tsunami.
ALPHA BRACKET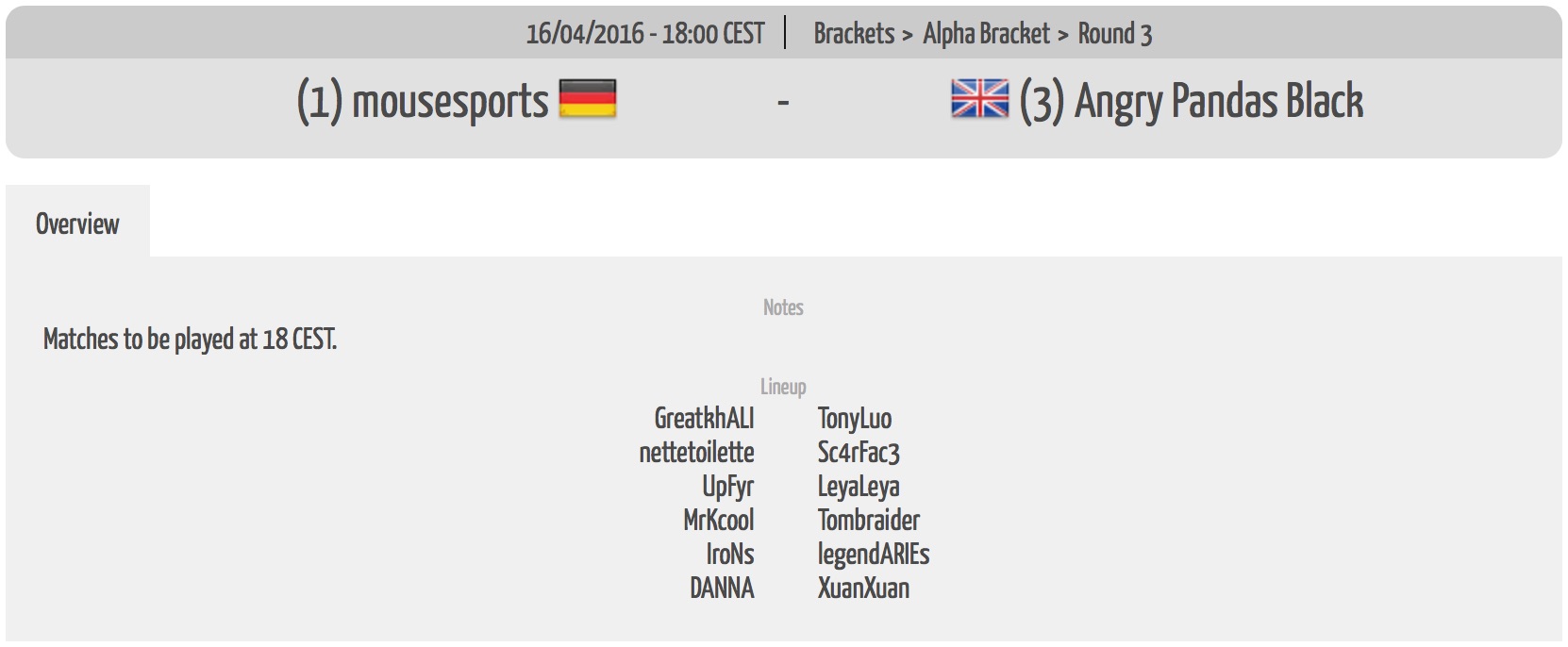 AngryPandas Black cycle through peaks and troughs in their competitive performance, but it looks like this lovable team are back on form as they make it into the top 8 after a disappointing performance at the Live Championships. They come up against Mousesports, formerly Rebirth of Empire, recently picked up after their strong performance at the Live Championships. MrKcool has already played a decisive role as a supersub in their round of 16 matchup after his teammates suffered a disappointing loss in their first game. Mousesports have been a consistent top tier team and have only continued to improve, and with the start of a fresh season and the resources of a successful organisation behind them, this could certainly be their time to take the spotlight.
RINGO BRACKET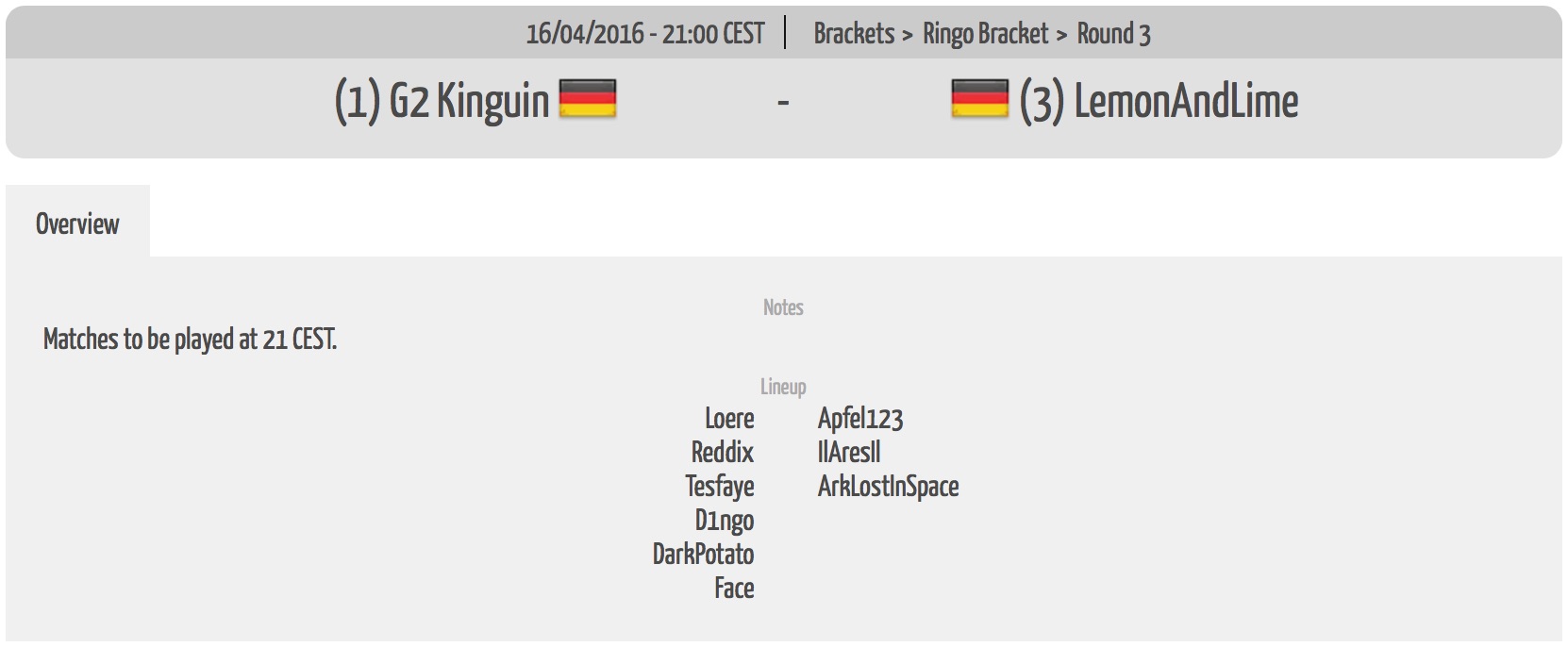 Lemon and Lime astonished all VGL viewers with a massive upset as they knocked out SK Prometheus, undisputedly one of the strongest European teams, in the round of 16. If we were to take a closer look at the roster of Lemon and Lime, their victory may come as less of a surprise. Consisting of ArkLostInSpace, Apfel123, and IIAresII, this is a team that is no stranger to competitive play. ArkLostInSpace is a familiar name as the star later of the now dissolved RebelTiger, and is joined by former teammate Apfel123 in this new lineup. However, they do come up against G2 Kinguin on Saturday, a team that is looking better than ever after finding that the tried-and-tested formula of Reddix, D1ngo and DarkPotato is best. G2 have recruited Loere to the team, a former longstanding teammate of ArkLostInSpace, who will certainly have some idea as to Lemon and Lime's strengths and weaknesses.
---
The quarterfinals will begin on the 16th of April at 18:00 CEST and can be viewed on the VaingloryLeague Twitch channel. The semifinals and finals will be at the same time and place on the 17th of April. Have a great weekend!