I hate it when I'm wrong, but the conclusion to the Vainglory International Premier League definitely made my incorrect prediction worth it. With two potential three-way ties on the line, games were exciting and meaningful on Saturday.
In the fight for survival, eight of the 12 teams in the league were battling to see which three would move on to the playoffs. Read on for full match spoilers.
pqq looks on to gankstars
Team pQq defeated Unknown to go 3-0 in the group stage with impressive style. To make the win even more sweet, pQq's Rain played Krul, touting an impressive score of 10-1-8. Despite Unknown's early jungle strength, Rain was able to get farm in his jungle with the help of Mauloa on Adagio.
As always, Druid had me out of my chair with his exciting plays. In the waning minutes of the game, Druid dove into the fountain to finish Tercus, then backed away with a fraction of his health left. While retreating from that dive, he quickly changed direction and activated his boots to dodge the Solar Storm that came racing towards him. Also, while Rain was soloing the Kraken, Druid decided to fight Unknown 1v3. He only managed to take down Tercus before he died, but he was just going for style points!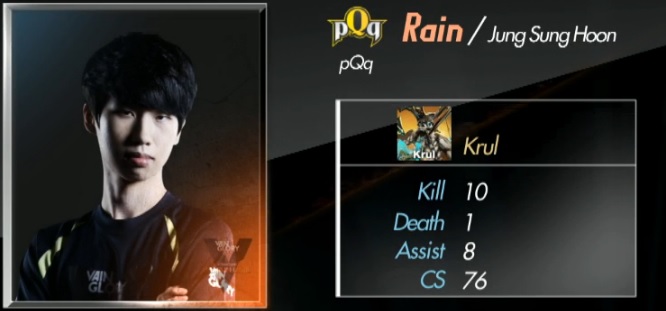 In the Man of the Match interview when asked who they wanted to meet up with in the semifinals, Rain said that he was looking forward to playing against Gankstars because he said they look like a strong team. That's a game that I'm anxiously awaiting as well. It will put Druid and IraqiZorro, two of the strongest laners in Vainglory, up against one another.
beyond layers the crowd control
*Note: This game was played after the Group C game.
Very early in this game we got to see the immense power of the two strongest slows in the game, combined with Catherine's lockdown potential. Luckily for Tiger-Phobia, they had two very mobile heroes. However, even the most mobile heroes have trouble with three forms of crowd control.
Beyond used a smart lane-gank tactic that secured them first blood against Urano. They immediately rotated down and performed a similar combo of slows and stuns to pick off Xero. Suri, Tiger-Phobia's jungler was quick to respond by purchasing a Weapon Infusion, and proceeded to help his team answer the two early kills of Beyond.
Beyond's competition took more than 20 minutes to finally ramp to a point where they could push siege past the second turret. Once Tiger-Phobia unleashed the Kraken, Beyond won a pivotal fight and was able to siege two turrets down. Each of those objectives infused Beyond with gold, and at 23 minutes, when Beyond dropped the third turret, the gold lead was about even.
After Beyond was able to even out the gold difference, they never looked back. ForgottenWar was a menace on Skaarf, but the MVP of the match was function on crystal carry Adagio.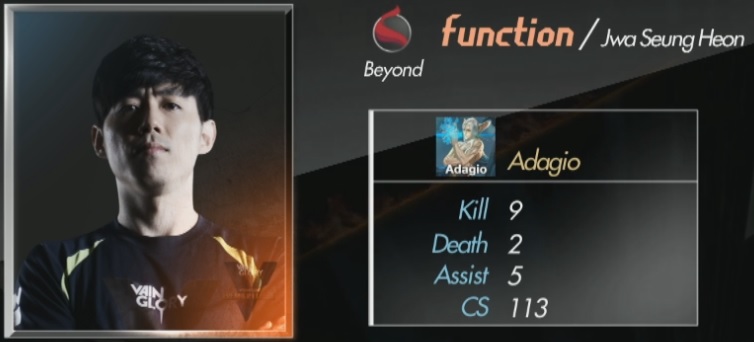 Group C Thriller
OGN decided to run the Group C matches second, so that in case hack won, they could prepare for the tie-breaker matches. I had predicted WILD winning, and we wouldn't want me to be wrong, right? Well, I was wrong.
Hack played the early-game lane situation really well, killing KnightRay for first blood, then rotating around to his side of the lane, and killing him a second time immediately. It took him six minutes to catch back up in creep score with Galaxy, but hack continued to fall further and further behind.
WILD stayed ahead in kills and ahead in gold, but they didn't seem to have the resources on their team to deal with the expert positioning of Galaxy on Skaarf. WILD would capture Kraken, but then would only have the weak attacks from the support Adagio, or the short range of Vox to try to siege turrets with. Meanwhile, Galaxy was burning through the health of Kraken.
Eventually, WILD grew more impatient, and the urgency of closing the game out became apparent. They prepared for the final push, with Kraken captured and sauntering down the lane as well. Almost 29 minutes into the match, the game looked like it was over. WILD had a chance to engage on Galaxy, but pushed him further into his base. From here, he had WILD burning on his Goop, so he made sure to mitigate some damage with Reflex Block, and then lined up a gorgeous Dragon's Breath to finish the entire team off.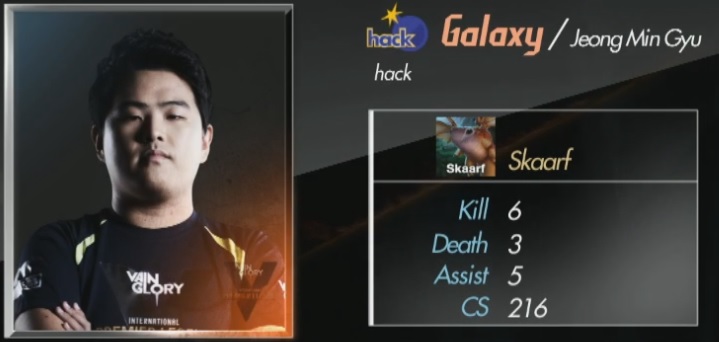 With this mighty swing of momentum, Galaxy and Plex sprinted down the minion-less lane, and tanked through the remaining three turrets, forcing a three-way tie in Group C! Galaxy, with his team on his back, managed to bring his team back into the game, despite a 6k gold deficit, and being down 9 kills.
Tie Breakers, Legend Makers
Hack, Raid, and WILD were all tied at 1-2, so the night was far from over. Each of the teams would play one another, attempting to determine the strongest of the three to be crowned as a winner. The first match would be hack versus Raid.
This match broke wide open when hack was able to defend a gold mine payout around 12 minutes 2v3 against Raid. Phone and Plex, the support and jungle carry duo of hack, made sure the gold mine had a Minion Candy, waited for Raid to engage the miner, and then focused their efforts on the largest threats. While 2v3's are impressive, a 2v3 without the lane carry is mind-blowing.
Raid kept the match closer throughout, but eventually Celeste scaled into her true form, and Raid got caught in a team fight when Liege was too far away to contribute. Hack easily cleaned up two members of Raid, and then picked up the Kraken for themselves and pushed for the win, keeping their playoff dreams alive.
Epic Rematch of Ultimate Destiny
WILD and hack met again in the round robin tie-breaker matches, but this time they were both more comfortable with what they could expect. WILD reverted to a jungle combo that they had used in the fourth round of games, when they combined the stuns of Joule and Catherine to punish non-mobile laners.
WILD wasn't going to settle for their early-game comp, and instead opted to match the scaling potential of Skaarf with one of their own. KnightRay and Galaxy would have a Skaarf mirror match in the lane, while Senti moved to jungle Joule, and Plex would transition to Adagio.
It seemed hack had learned from the last game, as they were able to play the early-game much better than their previous meeting with WILD. A pivotal team fight at gold mine resulted in Plex scoring a double kill with his Verse of Judgement. Hack could almost taste the victory, but WILD would start to stage the comeback.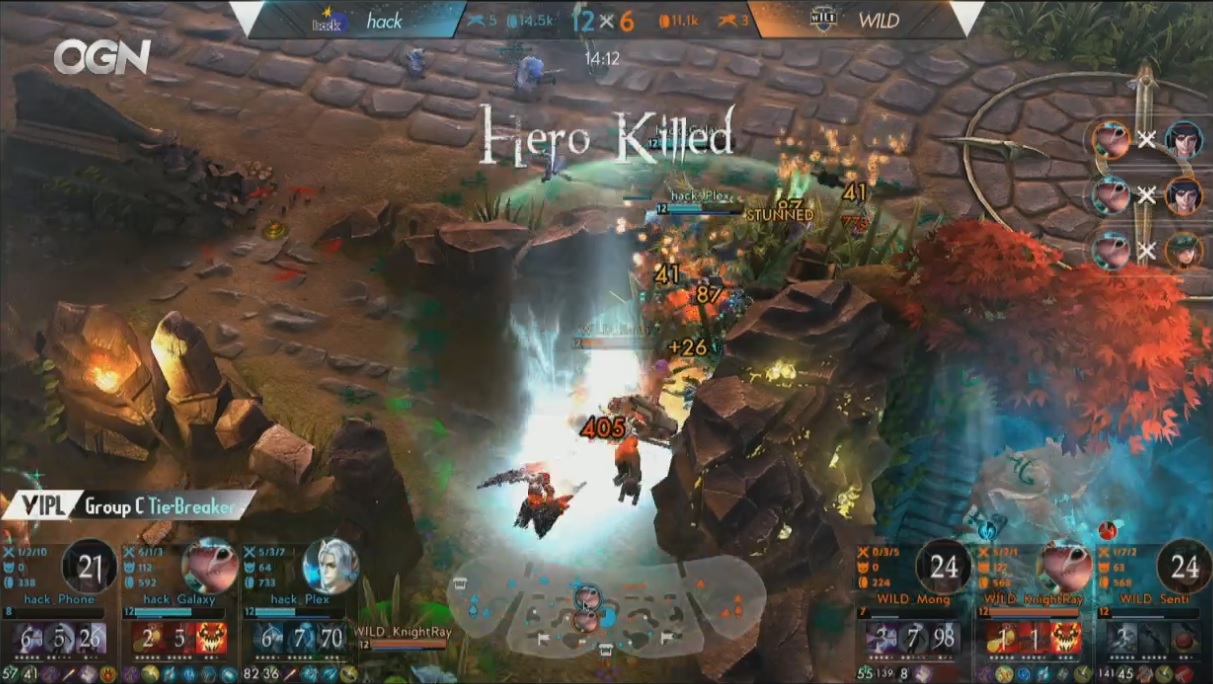 Plex lines up a perfect Verse of Judgement after Mong and Senti had both failed to connect with their stuns. You can see in the aftermath that Galaxy and Plex are both healthy, with enough resources left in their tank to finish the fight. KnightRay would have other plans.
By rapidly juking the Dragon's Breath of Galaxy, KnightRay evaded most of the damage that Galaxy was trying to put out. All the while, his Eve of Harvest was healing him during the trades. Plex didn't have enough damage output to finish KnightRay off, so despite Adagio's powerful ultimate, KnightRay executes an insane 1v2 standoff in the jungle.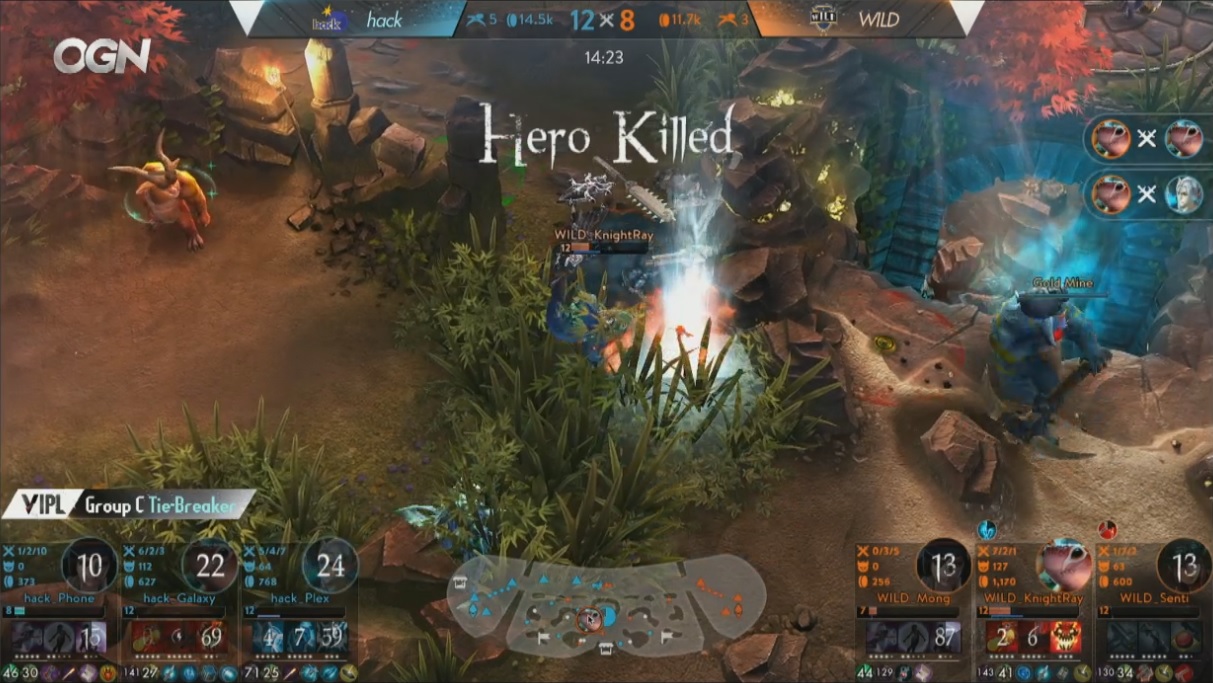 While the caption says "Hero Killed", I think it must have been mistaken, because the hero, KnightRay, had actually survived.
Later, however, KnightRay would have a positional misstep that would close out the game. KnightRay stepped too close to the tri-bush and Phone was able to quickly close the gap. Before the stun from Merciless Pursuit wore off, KnightRay was looking at a 30 second death timer.
After multiple double-kills from Plex, he stood above the pack as the clear favorite to be MVP of this match.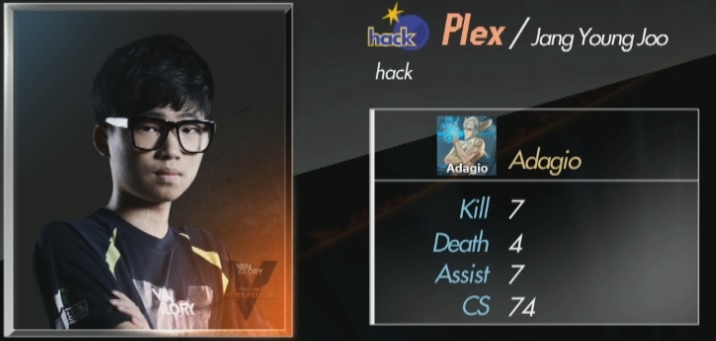 Hack moves on to the final second-place spot in Group C, so the six teams remaining are:
Group A:
Group B:
Group C:
More games will be played on OGN Global's Twitch channel live on Thursday, September 10 at 5 AM PDT / 2 PM CEST. Watch for the preview article to know who to keep an eye on and for BrokenMyth's predictions on who will win!
AdyEndrus contributes content that helps players improve by understanding the meta. Like most players he lives for patch day. He loves to evaluate the changes to Vainglory and provides a tri-weekly tier list. Reach him on Twitter as @adyendrus
Latest posts by AdyEndrus (see all)