It's been about a month now since the 14th hero, Vox, dropped on the Fold. Prior to that, we already had a decent idea of what heroes we'd be getting before their announcements. The early-January announcement of the story for the next three heroes gave us clues to all three of them. Ardan was, of course, shown, unnamed, in the hologram of the first lore, while Vox and Celeste were mentioned as the twin children of Julia. So what clues can we find about the potential next hero or series of heroes?
The Witch
In Adagio's lore, The Dark Parade, the story focuses around him and a mysterious, unnamed witch. The lore spends a rather large portion of time developing her character, so I find it unlikely that she won't be used in the future. When he asks why she has come and suggests that it may be his power, she responds, "… the power you weave, though fascinating, is quite the opposite of my own" (para. 15), this suggests the primary power in her kit could be an exact opposite of one of the powers in Adagio's kit. When I was reading this, I actually considered that it may be Celeste, but Celeste's powers are hardly an opposite of Adagios in anyway; different, but not opposite.
So looking at Adagios kit there's one thing I'd immediately consider: ice. Adagio's kit revolves entirely around is arcane fire, and the obvious opposite to that would be ice (or maybe water…). I think this would make a rather cool character, one who could be focuses largely around slowing and snaring characters with her chilling abilities.
Another possibility I saw mentioned on reddit, was the potential for her to have some energy draining ability opposite of Adagio's heroic perk, Arcane Renewal, that restores energy for him.
The last possibility I can think of is something that debuffs enemy attacks, opposite from Adagio's Agent of Wrath. This would fit with the line from the lore where Adagio is left weakened by pain after his dance (para. 23).
The Archer
A long while back on the concept art stream, PlayoffBeard accidentally let slip that there was an archer hero (or something similar to one) in the works. You can watch that here. It's hard to say wether or not that concept survived into the later steps on concepting, and how soon we'll see it in, if ever. I for one would love to see an archer hero in the game, I think there's a lot of interesting directions you could go with that concept, from the high-mobility scout-style archer, to the stationary, hard-hitting sniper archer.
The Archer could also be the scarred, Stormguard archer mentioned in Impossible Decision.
The Beast
In the same stream, ChainSAW concepted an amazing beast looking hero, which Zekent dubbed "Bob."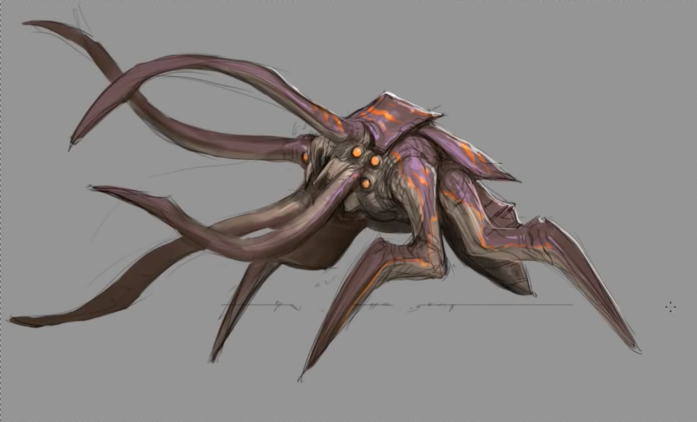 I honestly doubt that we'll actually see this hero on the Fold, but I think it'd be awesome if we did. ChainSAW talked about him having some pulls and snares in his kit, which would be nice as that's something missing from the game at the moment.
The Queen
Then of course, there's the mysterious and allegedly "tyrannical" Storm Queen. We've only seen her in Catherine's Mission, but she is mentioned and alluded to through the entire family lore. The amount of time spent on her makes her a strong candidate for a future hero.
She's apparently magical like her sister, Julia, was. Perhaps her powers would revolve around controlling the weather, making her some kind of support hero?
The Raven
One character that we see more frequently than the Storm Queen is her seeing-eye crow, Vyn. Vyn accompanies Catherine on her mission to capture the twins, however after she fails and disobeys the Queen's orders, it's unknown what happens to him, though he is seen at the Masker Rage.
If he was a hero in the Fold, he could potentially be some kind of shape-shifter. To be honest though, I doubt Vyn will ever be his own hero.
---
The last time I did one of these, it was a definite success spawning the largest community joke so far. I'm hoping to make these into a more regular series, likely after each lore series or single hero is finished. Sorry for the lack of humor in this one, I wanted to try making it a little more serious and formal than the last. But I'm definitely looking to do more humorous writing for the site in the future.
What heroes are you expecting next? What classes and positions do you think they might fill? Are there any abilities you're hoping to see on the Halcyon Fold soon?
I'm a news and eSports writer from Broken Myth and, of course, a Vainglory player. Add me in-game as Jackaloupe. I frequent /r/VaingloryGame and can often be found on Twitter or at the Vainglory Forums.
Latest posts by Jackaloupe (see all)