With the Summer Season only weeks away, Vainglory 2.5 drops with an entirely new progression system for all players: Talents. This update comes packed with the most anticipated skins, quality of life improvements, and balance changes—all for your buttery smooth™ play experience. Let's break down the Vainglory 2.5 Update Notes!

INTRODUCING TALENTS
After months of teasers and anticipation, Talents arrive full-fledged on the Fold in Update 2.5! In short, Talents are "collectible hero upgrades that make Vainglory's short BRAWL game modes even more mayhem-filled and fun." Remember that bulk Glory (and ICE) you've been saving for years? Time to blast it! Talents are available to unlock in methods accessible for players of all tiers and seniority, including misers who do not wish to spend a dime. Among these include: Talent chests, daily login rewards, coin rotations and more! In an in-depth walkthrough by PlayoffBeard, Talents and their core mechanics are augmented through quick and informative detail.
---
SUPER SPECIAL SHINY SKINS
Netherknight Lance (Legendary)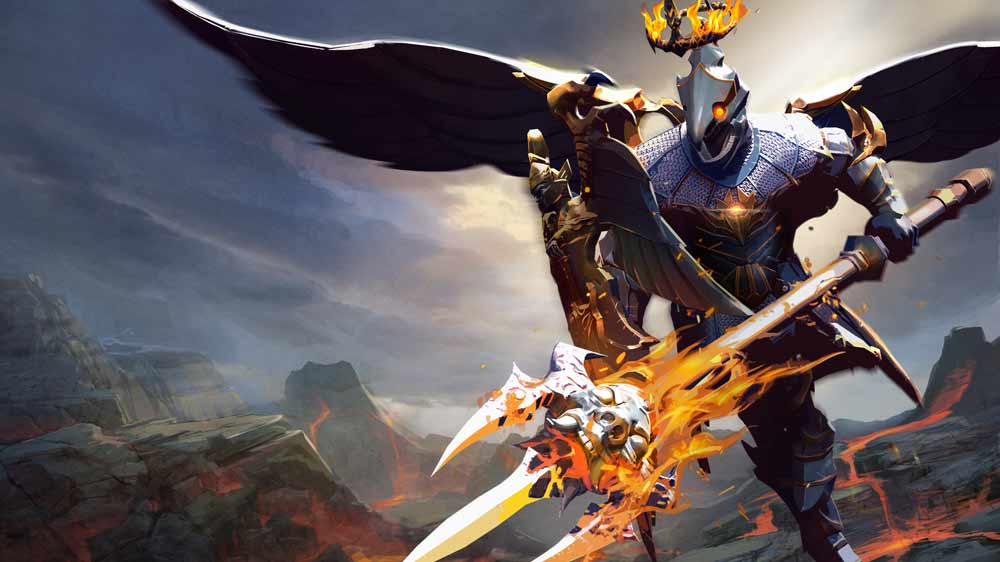 Hell yeah! Literally. Jump, roll, stun, root and roll again—with fire. Compared to his rare brother from beyond, Legendary Netherknight Lance features an entirely new set of wings, with changes as follows:
Nether Trident engulfed in fire

Obsidian shield featuring the Pinnacle of Awesome design

Combat Roll is now a combat corkscrew flip

Flames fly from his shield during basic attacks and Gythian Wall
Netherknight Lance is available to purchase in a limited-time Talent bundle pack, or for direct ICE & card unlock starting June 8.
Broken Doll Alpha (Legendary)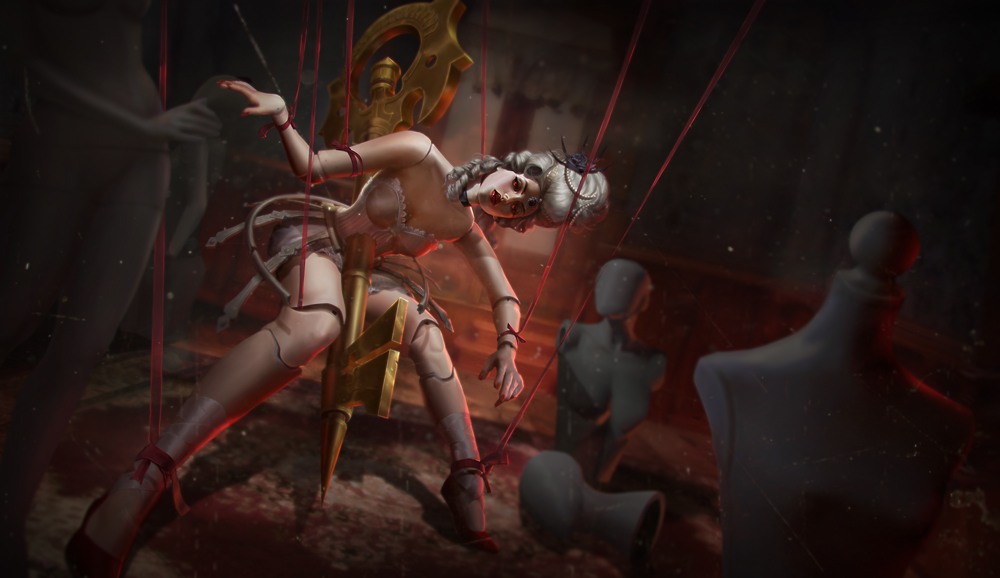 Twirl around as a pretty princess with demonic frights in the complete antique set of Broken Doll Alpha, topped off with her Legendary version. This quite realistic girl shows off her gentle manner with model and effect changes:
The key to Alpha's clockwork heart is also a dangerous weapon

During Termination Protocol, Alpha falls inside a golden clock and explodes in sparks & gears before the key winds her back to life

Deadly clockwork key attacks with beautiful ballet movements

Recall: Red strings attach to her limbs, spin her around and drop her back in base
Broken Doll Alpha is available to purchase in a limited-time Talent bundle pack, or for direct ICE & card unlock starting June 8.
Spider Queen Kestrel (Epic)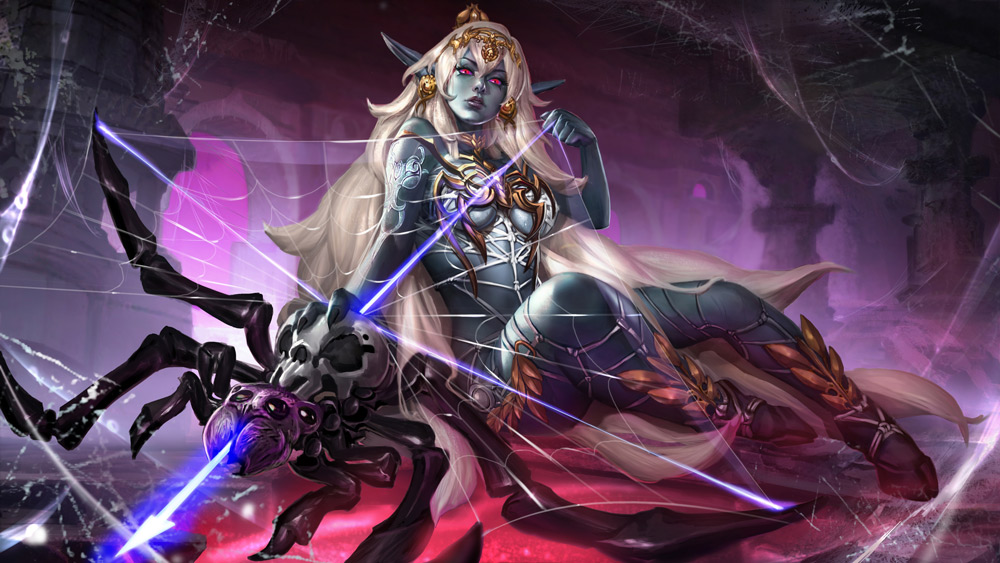 This isn't a web of lies! Kestrel yet again receives a glamorous skin to match her unique archer theme in Spider Queen Kestrel. Now, you'll be able to silly string your enemies into a super sticky spider silk stun (say that 10x fast). Apart from elvish alliteration, Spider Queen Kestrel features model & effect changes as follows:
Spider Mother Bow with webs

Drops exploding spider sacs for Active Camo

Elvish leap during Glimmershot

Spins into new pose for One Shot One Kill
Spider Queen Kestrel is available to purchase in a limited-time Talent bundle pack, or for direct ICE & card unlock now.
Lapdog Grumpjaw (Rare)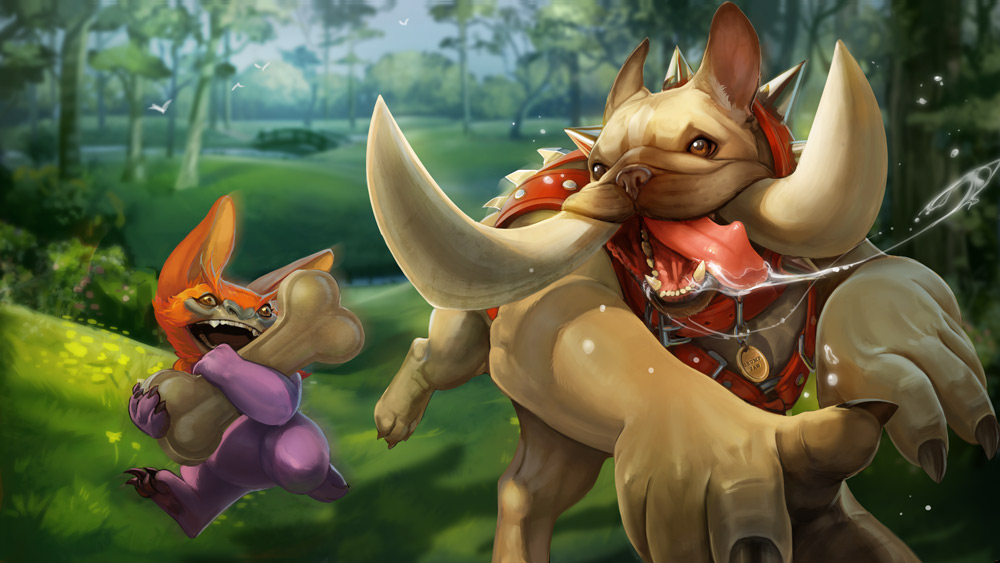 Our adorable, hungry hero Grumpjaw gnaws on his first skin with Lapdog Grumpjaw. As the name suggests, Lapdog Grumpjaw shed his outer scales and arrives back with a total redesign from the vet. Themed like a French Bulldog, dog lovers will beg for his skin! Just don't try to fit him in your purse (or murse, don't even pretend).

Lapdog Grumpjaw is available to purchase in a limited-time Talent bundle pack, or for direct ICE & card unlock now.

---
QUEST REDESIGN
In order to accommodate upcoming progression, quests and their respective chests have been entirely redesigned to make reward participation more understandable at all levels of play.
"5-Hero Chest"
Talents, Talents, and even more Talents! I wish I had just one… Replacing the first quest slot comes the 5-Hero Chest. Play five different heroes to unlock Talent coins for those respective heroes. This resets often, making it the ideal earning method for F2P players.
"Slot 2 Quests"
Retaining its previous functionality, the second slot holds the most participated and thrilling quests from before. The only difference? Chest unlocks come bundled with Talents!
"Consecutive Wins"
For years now, players have earned bonus Glory for their First Win of the Day, Third Win of the Day, and "Sinister Seven," achieved upon winning a match seven days in a row. These indicators were previously removed to make room for additional UI. But, now they've visually returned and replace the third slot!

---
QUALITY OF LIFE IMPROVEMENTS
Visual Clarity
Indiv

idual turret-range indicators (turn off in settings) marked by colors:

Green: Turret is targeting a creature, e.g. allied minion

Yellow: Turret has no target or is targeting an allied hero

Red: Turret has a target, and it's you …

RUN!

Burst dam

age flashes the screen red, and stuns flash white (turn off in settings)

All slow effects receive prominent Frostburn particles

Death timers display next to the top match timer

Scoreboard displays item cooldowns

Pretargeted abilities prompt a selection radius when used without a target
Base Sanctuary
MOAR HEAL, LESS TIME! In all modes, heal and energy recharge per second has been increased from 8% to 12%, and also occurs in much faster ticks. For standard modes, a small speed boost is granted once in the sanctuary, which is lost upon taking damage.
---
ADDRESSING INTENTIONAL LOSING
Ranked Dodges
At the beginning of Update 2.4, a server-side hotfix was introduced which, after dodging, causes visual skill tier to be taken equal to if you lost that match. This change is present in Ranked mode, and only the player dodging has to pay the time.
Low Priority Queue
Community feedback quickly piled up to remind Super Evil that dodging remains a necessity in order to avoid definite toxic players. They heard with open ears, and as a result, LPQ punishments have been significantly increased for intentional losing scenarios. Although this alone will not solve the bone of contention, it's the first step toward combating dodge-related issues. Be on the lookout for advanced troll detection during the Summer Season.
---
BLITZ
Middle Sentry replaces Gold Miner, and we don't know

what

the flying Flicker he's on

Middle Sentry is always visible (does not require vision)

No longer yields gold upon killing

Harder, better, faster, stronger

Health and regen increased when out-of-combat

Individual "Blitz Score" records your Blitz progress, viewable on the play section of the home page
---
HERO BALANCE CHANGES

Someone forgot their dad jeans. With the meta retaining the prioritization of heavy burst damage, Ardan found himself standing there … and standing there … and standing there until he fell over like soggy bread, unable to keep his family trio alive. With a slight increase in his Julia's Gift health gain, Ardan can now mingle longer with the other dads on the Fold. Only once he's not mingled out.

Cloud9's rendition of Operation just wasn't enough. In good spirit, Baptiste's Bad Mojo now comes with increased crystal ratios on the impact and explosion damage. As well, Baptiste's sixth finger (oh, wrong hero?) resulted in his Ordained cast range to increase from 5 to 6.

The Stormguard saga continues! In this chapter, Catherine scales twice as tanky for twice the fun at no additional cost. Early game aggression was not rewarding, but now, each stack of Captain of the Guard grants Catherine 2 armor and shield, previously at 1. Be sure to purchase cooldown items and frequently stun and silence early on.

Just because he's blind as a bat cat doesn't make him any easier to chase across the map. The perpetual sound of a fuzzy engine followed by "You have been killed" just wasn't fun, which led to Glaive's Afterburn cooldown being increased from 22-20-18-16-10 to 22-20-18-16-12. (By the time you've read this far, Afterburn could have been cast around 23 times!)

NOM NOM NOM NOM crystal path, NOM NOM NOM french fries. CHEW GNAW BITE CHOMP grumpy more accurate. BURP.

This sheriff was just a bit too badass. In the late game, jail for her bounty targets was just a hop, skip and skedaddle away on her weapon path. Gwen has now returned her permanent search warrant with a base weapon ratio decrease from 45% to 35%.

Recent balance changes prior to Update 2.5 didn't quite make the mark. Even at far distances, Kestrel was able to piledrive her targets with an endless barrage of halcyon-infused nuclear weapons (or at least that's what it feels like). In addition to energy costs for Glimmershot and One Shot One Kill being increased, Kestrel's basic attack and reload times have received bug fixes, making them slightly slower than before. Be at peace.

The votes are in! It's time to buff Lyra again. Remember when Imperial Sigil had that burst heal? You're free to resume your tear-filled slumbers—after being reactivated, Imperial Sigil now consumes the remaining heal duration at 60% effectiveness. Lyra's basic attack range was decreased from 6.6 to 5.1 in order to relieve early game pressure. Because of this, the next logical change was to increase her range later on; Arcane Passage now passively increases Lyra's basic attack range by 1.0-1.5-2.0 meters. As well, the portal-to-portal range was increased at the second and third ranks. Tl;DR: Just run. /s

Our favorite snaggletooth plant was sprouting too many dandelions and sunflowers (AKA chomping munions). With Brambleboom Seeds' cooldown being increased from 2.5 to 3 seconds, escaping her loyal friends is an easier endeavor.

In good spirit, VaingloriousSAW returns to share his thoughts on the 2.5 balance changes:
FOOLISH CREATORS AGONIZE OVER HOW MUCH "ARMOR" AND "SHIELD" SAW HAVE. POINTLESS. DEFENSE IS FOR THE WEAK AND WRONGFULLY ACCUSED ARSONISTS.
THAT BUILDING WAS ON FIRE ALREADY WHEN SAW GOT THERE, SAW JUST WALKING SAWS DOG. YES SAW HAVE DOG YOU JUST CANT SEE IT NOW CUZ DOG ON VACATION. SAW NO NEED TALENT. SAW PUSH IS TALENT ENOUGH. ALSO PLAY STEEL DRUMS AND SPOT ON RINGO IMPRESSION. "WHERES MY ARM? WHY MY GUN SO SMALL? WHY I DIE TO SAW SO MUCH? WAA WAA" SEE?

The cute, cuddly and fire-breathing dragon followed too strict of a "flame and run" tactic. Initial ignite damage on Goop has been heavily toned down while the burn damage packs quite a bigger singe. If you're looking for a real Skaarf hug, you're in luck.

The award for the smallest (but sharpest) balance change this patch goes to … Taka! By increasing his House Kamuha weapon ratio from 30% to 35%, red builds may phase out of the "it's like we're not even here" state. The impact of said change is minuscule, but opens up an entirely new path for the ginga-ninja to follow.

Sometimes you just wanna port home, and Vox doesn't let you escape that awful country song blasting in your ear at volume 35. Pulse's slow at center has been reduced from 20-22-24-26-30% to 15-17-19-21-25% in order to make Vox more reachable for melee heroes.
---
ITEM BALANCE CHANGES

If you landed a successful Atlas Pauldron onto the weapon carry, it was basically melt city, population: 1. To reach ghost town, Atlas Pauldron's cooldown has been increased while the effect's duration has been decreased. As well, the active attack speed reduction has been lowered from 65% to 50%.

Despite its high cooldown reduction, Clockwork just wasn't … working. Other items for a cheaper price outdid this grandfather, but now he's caught up with a lower total cost. Watch out for flying canes!

Can you hear me me me me? Echo saw minimal purchase history, and for the right reasons, with cooldown items as the most effective investment. Alongside a total cost decrease and passive energy increase is a lower base cooldown. Scream, shout, and hear more back!

Just as Echo, Nullwave Gauntlet received a lack of attention once Captain players began to practice blocking this monster. To counter this, the range of Nullwave Gauntlet has been increased with a decreased cooldown from 40 to 35 seconds. Be careful for an Ardan double Gauntlet special (or triple with Echo).

This poor fellow heard about the Lyra burst heal and decided to wake up. With a fluffed pillow and warm milk on his nightstand, Slumbering Husk offers more base health and decreased cooldown from 45 to 30 seconds.
---
PERSONAL INSIGHT
The quality of life changes in Update 2.5 are prominent, and will continue to improve Vainglory in Update 2.6 with the start of the Summer Season. From upcoming heroes, meta differences, and ranked system enrichment, we're beginning to see buttery smooth™ play experience cross with the aforementioned features promised in the Spring Developer Progress video. Despite Talents feeling gimmicky, Update 2.5 paths the way for Vainglory's most anticipated arrivals such as 5V5 and additional servers, ultimately improving connection across the board. Special thanks to HipsterSkaarf for the lovely graphic!
Site Lead and Social Media, Broken Myth. Writer, GankStars. Broadcast moderator, Vainglory.