With the conclusion of the first semifinal match, one team has punched their ticket to the Vainglory International Premier League's finals. The three-game semifinal set was full of action and strategy, pushing both teams to their limits.
Each game was unique and exciting, and I encourage you to watch all of them! Each team that was able to adapt had distinct advantages and strengths that were difficult to be answered.
Game One
BANS
CullTheMeek is one of the best Glaive players anywhere, and easily the best Glaive in this tournament. That ban did not come as a surprise. Adagio being banned surprised me quite a bit, as it left Vox available for Druid. Ultimately, pQq had another plot to stunt the growth of IraqiZorro, and they couldn't afford to have CullTheMeek on his comfort pick for their plan to work.
Here's how the teams lined up for the first game:
| | | |
| --- | --- | --- |
| | | |
| IraqiZorro | CullTheMeek | gabevizzle |
| | | |
| | | |
| Druid | Rain | Mauloa |
| | | |
With these compositions we really got a chance to see the two laners on their favorite heroes going head to head. Because so much pressure was on these two laners to decide the game, pQq was quick to act, pressuring IraqiZorro in the very early lane phase. The first gank came when Druid froze the lane on his side of the 50-yard line, and Rain and Mauloa were finished with a clean jungle rotation at 1:45. Iraqi used Twirling Silver while walking back to lane, which gave pQq a free kill when he overextended.
After that early death, pQq rotated up around 2:30 to try for round two. Luckily, gabevizzle was present to Vanguard the GankStars' laner to safety. However, the lane was still frozen on pQq's side, forcing IraqiZorro away from last hits. Druid played the situation perfectly, constantly standing to deny Iraqi's farm potential, creating a creep disparity at 4:22 of 48 to 19. The plan to force IraqiZorro to fall behind was working as intended.
Around the five-minute mark, IraqiZorro purchased his first tier three item, Tension Bow. This is more than 90 seconds later than his average purchase time. The impact that Tension Bow has on games has very diminished returns, and rather than adapting his build to scale for a potential late-game recovery, Iraqi instead opted to stick to his build path.
With a lack of early crowd-control, GankStars didn't have an easy path of pushing the gold lead back in their favor. The first team fight at seven minutes in turned into a clean ace for pQq, thanks mostly to Catherine's early lockdown on a bed of Scout Traps. From there, the gold lead ballooned to almost double before pQq destroyed the vain crystal in the first game from this set. By eleven minutes in, you could see the deficit taking its toll on the mannerisms of the players as GankStars looked forward to game two.
Game Two
BANS
In a move that I fail to understand, pQq changed their ban for the second game from Glaive to Ringo. This strategic adjustment seemed incorrect after how well pQq handled IraqiZorro on Ringo. Now they opened themselves up to the wrath of CullTheMeek's Glaive, and their counterpick option was to play Glaive themselves.
Here are the picks for game two:
| | | |
| --- | --- | --- |
| | | |
| Druid | Rain | Mauloa |
| | | |
| | | |
| IraqiZorro | CullTheMeek | gabevizzle |
| | | |
Though pQq showed early aggression, GankStars didn't back down, forcing some early invades of their own. However, Druid was able to rotate early, and CullTheMeek wasn't free to roam down from the lane, and pQq jumped to an early 2-0 lead.
GankStars jumped into the lead by forcing a teamfight before Druid could reach level six. Because they had opted for IraqiZorro to jungle, his Vox reached level six, and Wait For It is a much stronger power spike than a Glaive Blood Song on Rain.
Before 10 minutes, CullTheMeek's Glaive was 4-0-4, and was wreaking havoc, forcing pQq to constantly retreat. Gabevizzle purchased a War Horn as his second item, enabling his team to be able to chase and dive. This was actually used a number of times in the next few minutes as GankStars repeatedly aced pQq. It was actually a key item, built to enable the composition of GankStars.
In a final score of 4 to 17, GankStars closed out the second game in incredibly impressive fashion, especially considering their early kill deficit. CullTheMeek was a machine, and the War Horn of gabevizzle played a key part in rounding out the chase and kill potential of Glaive's assassin build.
Game Three
The final game of this best-of-three was blind pick, no bans, which means that the problematic Glaive from game two would return.
These are the teams picks without any bans:
| | | |
| --- | --- | --- |
| | | |
| IraqiZorro | CullTheMeek | gabevizzle |
| | | |
| | | |
| Druid | Rain | Mauloa |
| | | |
Seeing the champions for each team after the pick phase reveals some strategies for each team. The GankStars each picked their strongest hero for their respective roles and played straight-forward. PQq, on the other hand, seemed to expect to have their strategy be countered to some extent, and so they chose comfort picks on Rain and Mauloa, with Druid opting to play Celeste rather than Vox.
Though Druid had never played Celeste in the VIPL, it was banned against him in the matchup that pQq played against Invincible Armada. His Celeste play would be put to the test, and it was potentially a smart move to keep his Vox play from being countered. However, GankStars had no interest in playing around a Vox. They picked their best and came to play.
CullTheMeek changed his playstyle to adapt to his jungle role by investing into a Fountain of Renewal, finishing it before upgrading a Weapon Blade. IraqiZorro was a few steps behind his normal build, but still finished his Tension Bow at 4:15.
GankStars had a strong composition to dominate the early-game and so they invaded early and often. The jungle matchup was exactly what I had predicted, with a beefy Glaive easily handling the early burst of Taka.
About six minutes into this match, CullTheMeek was caught deep in the enemy jungle. Rather than panic, he doubled back and positioned himself on the base wall, setting himself up for one of the coolest escapes we've seen in competitive play.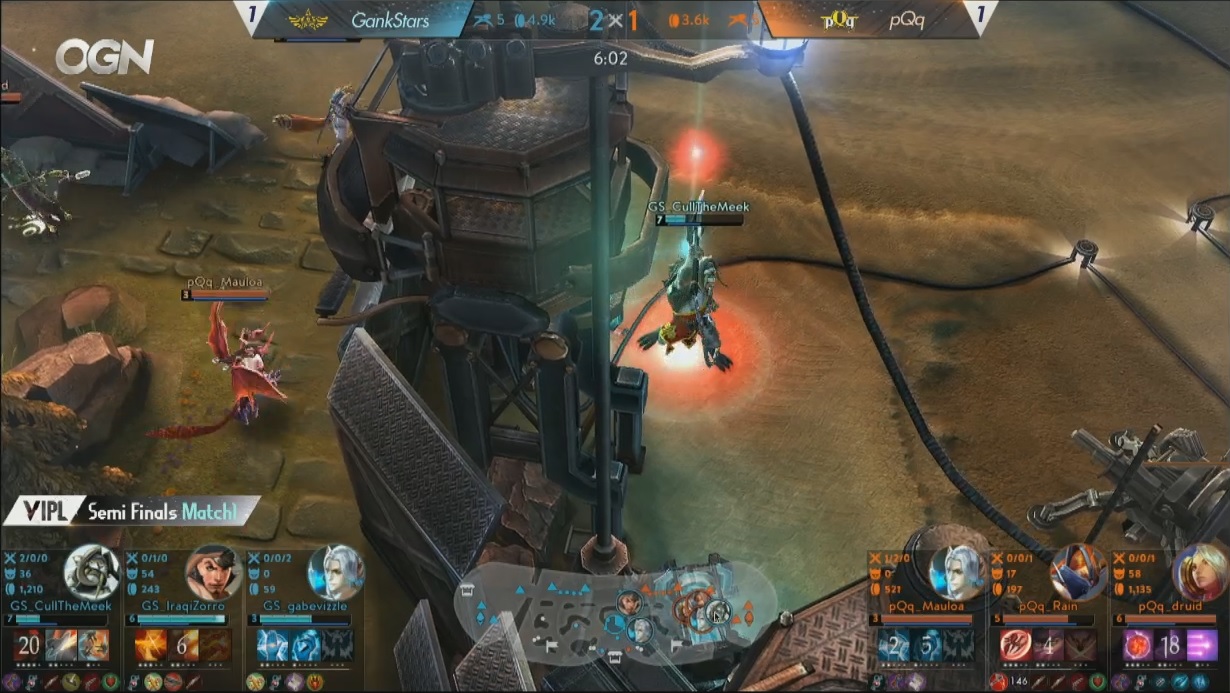 When Druid was landing his Core Collapse, teamfights were still going even. With IraqiZorro investing in a Reflex Block before seven minutes in, it closed out the potential for Druid to take over the game. IraqiZorro had a handful of expertly-timed blocks that saved his silver in teamfights.
Any time Druid would find an opportunity to get a bit of poke damage in with Heliogenesis, GankStars would kite back, then hard engage with CullTheMeek Afterburning into the middle of pQq. With Cull rushing a Fountain of Renewal, it made very little sense for pQq to focus him. Meanwhile, he was pumping out damage using his high base stats and attack-timer resets.
GankStars broke this game wide open. After the game stalled in kills at 4-2 until the 11 minute mark, GankStars went on a killing spree, picking up a pair of aces in quick succession. The kill gold and turret bounties propelled their lead to a very scary point. Celeste can outscale Ringo, but not when Glaive is clobbering the team in the meantime.
CullTheMeek was crowned the MVP of this semifinal, and for good reason. His meaningful play in the second and third games of this set gave the GankStars the push they needed to overcome their powerful opponents and secure them a spot in the VIPL finals.
Huge congratulations to the GankStars! Mounting that comeback showed their resolve and their ability to fight from behind. I look forward to seeing them match up against the winners of the second semifinal which will be decided later this week.
AdyEndrus contributes content that helps players improve by understanding the meta. Like most players he lives for patch day. He loves to evaluate the changes to Vainglory and provides a tri-weekly tier list. Reach him on Twitter as @adyendrus
Latest posts by AdyEndrus (see all)