Every match has an underdog. Sometimes it's fun to cheer for the team that has less of a chance to win. In this matchup, Hunters were considered the underdog, but only because they were battling against the Vainglory World Invitational champions, Invincible Armada.
However, looking back at the preview that BrokenMyth.net did for this semifinal, the individual player statistics pointed at Hunters winning in both the lane and jungle carry roles. When you consider the strength (or lack thereof) of Hunters' bracket, it's possible to attribute their recent success to just that; a weaker bracket. I wasn't writing them off, because lately they've been playing as a team. It looks like playing as a team and having stronger individual stats is enough of a difference in the Vainglory world.
BrokenMyth ran a poll for which team the readers thought would win. Here are the results of that poll:
Invincible Armada: 67% of the vote
Hunters: 33% of the vote
With only a 33% vote, Hunters knew they had their work cut out for them.
Game One
BANS
I had originally predicted a Celeste ban to slow down Wands, as he had shown a lot of improvement throughout this tournament on her. Invincible Armada instead banned Glaive, despite Hunters not picking Glaive in a single match so far. Hunters banned Adagio away from Ruin, who played it in both of the Wildcard Round matches, and had shown immense hero proficiency with Adagio.
Because Hunters don't typically play Adagio, it was an easy ban; taking it away from Invincible Armada, but not hurting themselves in the process. Invincible Armada took Glaive away from themselves rather than taking anything away from Hunters.
Let's breakdown the team comps below:
| | | |
| --- | --- | --- |
| | | |
| Godfather | Wands | Queen |
| | | |
| | | |
| Sangho | Wine | Ruin |
| | | |
The lane and roam roles were mirrored, with Ringo and Catherine playing those spots. On patch 1.7 Ringo topped the tier list thanks to his seemingly endless mobility and great sustained damage. Catherine also donned the number one spot among supports in that same era, so it came as no surprise why both of those heroes would be staples in these games.
In the jungle, Celeste is Wands' comfort pick, and likewise Wine has shown immense proficiency on Taka, but played it only once in the VIPL. Celeste wants to sit back with Ringo and wear her opponents down with her long-range poke. Taka wants to get to the back-line Celeste and disrupt both Ringo and Celeste. Both strategies have merit, so it would be a game that comes down to player skill.
By playing aggressively against Taka, Hunters got out to an early lead, being ahead in both kills and creep score. They couldn't believe it themselves, as they started to fumble this advantage about eight minutes in when Invincible Armada was able to snag a pivotal Gold Mine.
Godfather continued work on an interesting Piercing Spear build, while also finding the gold for a Metal Jacket. By reducing the defensive stats of his opponents, and building against their main damage type, he started outlasting his opponents.
Around 13 minutes into the game, Hunters showed the strength of their ranged combo, lining up a Solar Storm with a well-timed Blast Tremor that shook Invincible Armada to their core. This wombo combo decimated the health bars of Invincible Armada and lined Hunters up for the victory.
In a last effort, Wine had an impressive Taka play, dipping down to less than a hundred health, and then surviving for the longest time thanks to a perfectly timed Kaiten.
Hunters were able to close out the game after a deciding teamfight past the 20 minute point, when death timers were too long for Invincible Armada to respawn in time to defend their base. Now the pressure would be Invincible Armada to respond in the second game.
Game Two
BANS
Bans were retained from the first game for the entire best-of-three series. With the same bans I expected to see similar picks as the first game. Invincible Armada knew they needed to prevent themselves from funneling all of their damage into a single type (weapon), so they opted for a crystal power jungler.
| | | |
| --- | --- | --- |
| | | |
| Sangho | Wine | Ruin |
| | | |
| | | |
| Godfather | Wands | Queen |
| | | |
Sangho wasn't going to give Godfather as easy of a lane as in the first game. You could see that Invincible Armada was improving on their last game, as Sangho was up 49 to 35 in creep score at 5:00. In the first game, Sangho was down 48 to 42 at that same milestone, increasing his own creep score by seven, but denying 13 creeps from Godfather.
Behind Sangho's early aggression, Invincible Armada took an early lead, but stymied Hunters' typical aggressive behavior. After the carries reached level six, Wine found an opportune moment to land a Rocket Leap onto both Wands and Queen. After neither opponent could move, Wine lined up a perfect Big Red Button, quickly snatching a double kill.
This game evolved into a stand off with each team jockeying for vision control. Wands did a great job granting his team vision with the range of Celeste, but let down his guard for just a split second and got caught in the Joule/Catherine stun combo.
As the Gold Mine cashed out at 15 minutes, Hunters picked a fight with Queen bullying Sangho and Wine on Invincible Armada's side of the mid-map clearing. Despite being down 6-1 in kills, Hunters was able to split Invincible Armada up, forcing Sangho down towards the Minion Mine, and Wine towards the lane. Hunters surrounded Sangho, forcing him into a bad spot. While Sangho retreated, Wine saw an opportunity to use Big Red Button on Godfather. Godfather timed his Reflex Block to prevent the Rocket Leap stun, and then was able to burst Wine down before the laser finished him off.
Hunters took their single kill, and set their sights on Kraken, which they were easily able to capture. With Kraken sieging for Hunters, a teamfight broke out in the lane. As Wine tried his luck with another ultimate, Queen intentionally moved into the beam, reflecting hundreds of damage back onto the Invincible Armada squad. Despite Queen's best efforts, Invincible Armada managed a clean ace and then dispatched the Kraken to stop her siege.
Hunters won the next teamfight by front-loading damage with Solar Storm that clipped all three members of Invincible Armada. Queen again reflected the Big Red Button damage with her Stormshield, and Wands dropped an amazing Heliogenesis on the Joule mid-jump to turn the battle in Hunters' favor. As Sangho and Ruin retreated, Wands and Godfather rotated down to Kraken.
Even with Kraken on their team, Hunters was unable to close the game out. Wine had another beautiful Big Red Button that deleted Wands before the fight could begin. Godfather and Queen did their best to retreat, and barely escaped with their lives.
After 26 minutes of exciting back and forth gameplay, Hunters managed to stay far enough apart from each other to force Wine into a poorly aimed Big Red Button, which let Hunters clean up the fight. They scored the clean ace, and immediately rushed the base, sweeping the series 2-0 against Invincible Armada.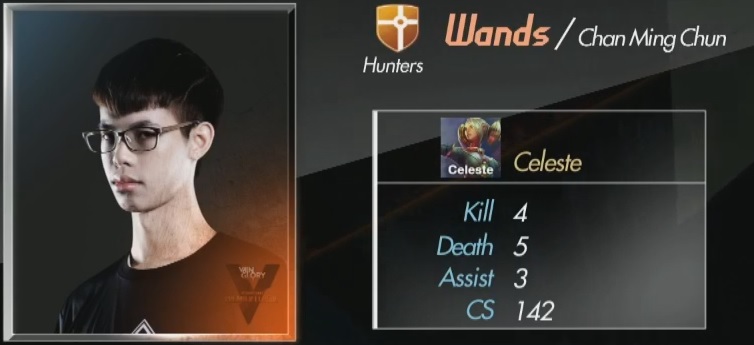 Wands earned MVP honors for his exciting and explosive Celeste play. He really was a shining star on the Fold. He had a heavenly pair of games where he got to show the celestial strength of his favorite jungle carry.
Congratulations to Hunters for earning a trip to the finals! They look forward to a rematch between themselves and GankStars, the team they lost to in the third-place match of the Vainglory World Invitational. Remember to check back later when we cover what you can expect in that round of games when Hunters and GankStars battle in the finals, and Invincible Armada gets a shot at redemption against pQq for third place!
AdyEndrus contributes content that helps players improve by understanding the meta. Like most players he lives for patch day. He loves to evaluate the changes to Vainglory and provides a tri-weekly tier list. Reach him on Twitter as @adyendrus
Latest posts by AdyEndrus (see all)